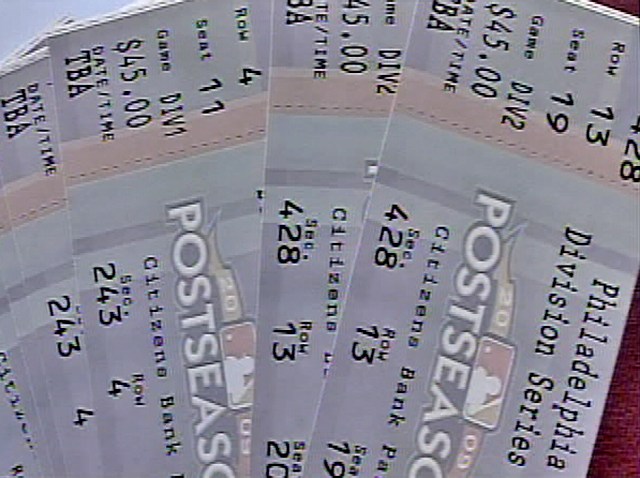 Believing that the Phillies could make a run has given way to watching them make a run.
With the Phillies just three games out of the second wild-card spot, the folks in the Phillies ticket office have once again dusted off the playoff ticket binder as they get ready for possible October baseball at Citizens Bank Park.
"The fact that we're preparing things…"
Phillies Vice President, Ticket Sales and Operations John Weber sounds just as amazed as some Phillies fans that a team basically left for dead at the trade deadline is back in the hunt.
"You win three, you lose three, it changes thing dynamically," Weber tells NBC10.
Weber says calls into the Phillies ticketing office from season-ticket holders have heated up with each passing day – and win -- as fans increasingly ask when playoff tickets will be offered up.
"It's such a fluid situation," Weber says. "If we lost & the (wild-card leading) Cards won it would be over."
Well, with the Cards in a tailspin and the Phillies on a seven-game winning streak, the Phillies brass are getting increasingly close to pulling the trigger and sending out that magical e-mail offering fans a chance to buy those Phillies tickets with the magical TBA date on them.
"We can't do this in two days prior to a postseason," Weber says.
So, it looks like the e-mail will go out -- soon.
As long as the Phils play well in Houston, fans should expect a chance to buy postseason tickets by early next week, at the latest, with the e-mail possibly going out to season-ticket holders as early as Sunday, Weber says.
Once the e-mail goes out, full-season ticket holders will get first shot at NLDS, NLCS and -- dare I write -- World Series tickets with partial season-ticket holders next in line.
Of course, even if the Phillies win the second wild-card (still a big IF considering the Phils were only given a 5.5-percent chance of making the playoffs as of Thursday morning), they would still likely need to win a one-game wild-card playoff in Atlanta before even getting to host a playoff game at CBP.
"Hopefully we can get there," Weber says.
Phillies fans agree.