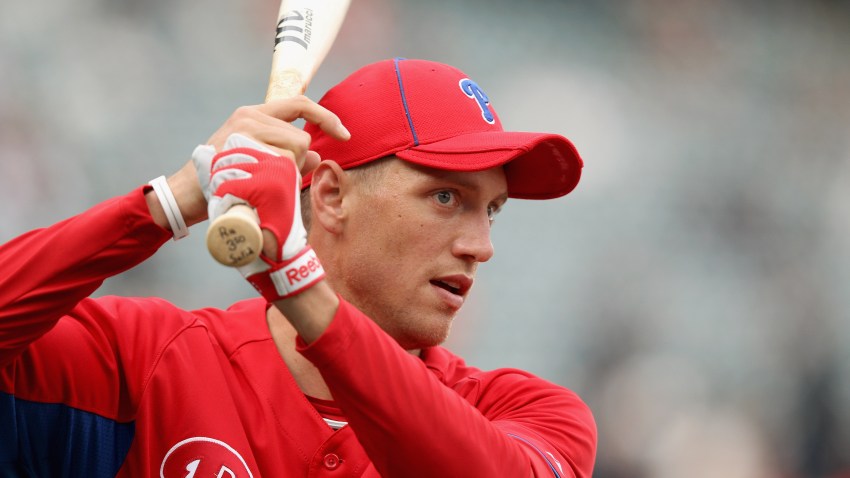 When it rains, it pours, as they say. And right now, the Phillies are caught in a deluge that doesn't have any signs of slowing down. With a lineup that is already weakened thanks to significant injuries to Chase Utley and Ryan Howard, the team can ill-afford to lose anyone else, lest they fall even farther than they already have.
Unfortunately, they are not so lucky, as they were dealt another injury blow on Monday afternoon. Just two days after they announced that Cliff Lee will be going on the disabled list thanks to an oblique injury, right fielder Hunter Pence was not in the starting lineup thanks to an injured left shoulder, according to MLB.com's Todd Zolecki:
Pence injured his left shoulder diving for a ball in the third inning in Sunday's series finale against the San Diego Padres at Petco Park. John Mayberry Jr. was the right fielder for Monday's series opener against the Arizona Diamondbacks at Chase Field.
While the severity of the injury is unknown, it certainly is the last thing the Phillies wanted to hear. Of course, given that Pence is hitting a not-so-robust .130 (3-for-23) over his last six games, maybe it's not the worst thing in the world that he sits out a game or two.
Still, with an offense that is getting poor performances from just about each and every player, losing one of the two or three best weapons you have is about as bad as it gets, especially, as Zolecki noted, when the replacement is Mendoza-line hitting Mayberry.
It's a long way until the end of the season, but if things keep going like they have been for the Phillies, they might want to consider bubble-wrapping Citizens Bank Park. Just to be safe.