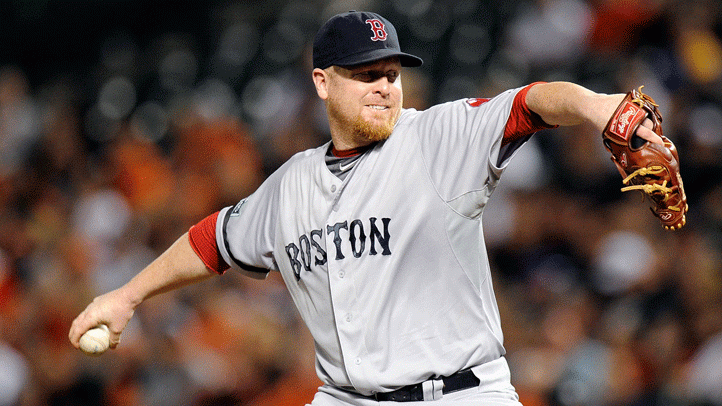 The Phillies made a trio of minor moves recently, when they signed RHP Juan Cruz, RHP Aaron Cook, and RHP Rodrigo Lopez to minor league deals as a way to add depth to the starting rotation and the bullpen.

Lopez, a 37-year-old, spent the last two seasons with the Chicago Cubs, where he had a 4.50 ERA in 104 innings. He spent time with the Phillies in 2009, and went 3-1 with a 5.70 ERA in seven starts for a thinned-out rotation. For his career, he has a 4.82 ERA in 1,350 innings, with a 5.8 K/9 and 2.8 BB/9.

Cook, 33, spent the bulk of his career with the Colorado Rockies, and was 72-68 with a 4.53 ERA over 1,300 innings. He signed with the the Boston Red Sox in 2012, and had the distinction of having more walks per nine innings (2.0) than strikeouts (1.9). In 18 starts with the Sox, he was 4-11 with a 5.56 ERA.

Cruz, the only relief pitcher of the bunch, was effective in 35 innings with the Pittsburgh Pirates in 2012, where he had a 2.79 ERA and 8.3 K/9. He's shown the ability to be an effective relief pitcher at times, including his 2008 performance with the Arizona Diamondbacks, where he had a 2.61 ERA and 12.4 K/9 in 51 innings.

Both Lopez and Cook represent little more than cheap, somewhat-effective starters that can be called upon in a pinch to provide some innings at the Major League level. With only two known quantities in the starting rotation (Cliff Lee and Cole Hamels), the Phillies are insuring themselves against possible disaster should Roy Halladay, Kyle Kendrick, or John Lannan prove to be ineffective. Even though Lopez and Cook aren't necessarily going to give you quality innings every time out, they provide depth. It might not be good depth, but cheap depth is better than no depth at all.

Cruz, on the other hand, has the opportunity to be an important piece to the Phillies bullpen. Despite having some control issues (4.8 BB/9 over his career), he has the ability to miss bats (9/1 K/9 in 655 IP). He's not had the most consistent career, but at such a low cost, the Phillies are assuming minimal risk in signing him. If Cruz can stay healthy, then he figures to have a shot at being a key cog in what figures to be a very good bullpen.