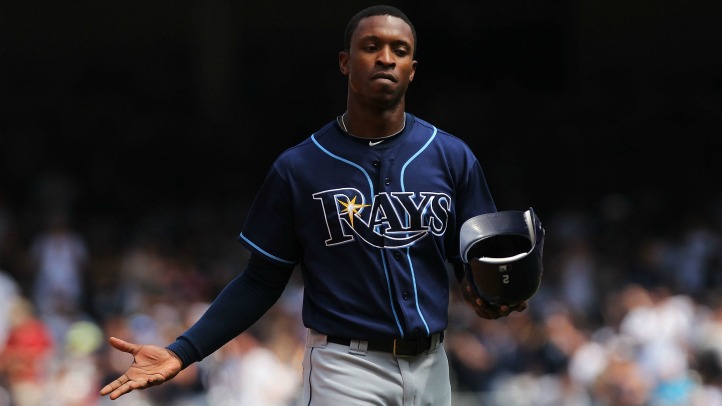 The first significant free-agent domino of the off-season fell on Wednesday afternoon, when center fielder B.J. Upton signed a five-year deal with the Atlanta Braves. The deal, as first reported by Fox Sports' Ken Rosenthal, is worth just around $75 million.
This deal is significant not only because it helps to set the market for other outfielders -- for instance, Angel Pagan, Nick Swisher and Shane Victorino can likely expect to receive less appealing deals -- but it also leaves the Phillies with one less option for the roster in 2013. Heading into this off-season, general manager Ruben Amaro Jr. had to major holes to fill: center field and third base.
And with Upton -- who many considered to be their first choice -- off the board, that means there are fewer, and much scarier, options remaining on the table.
Of the big names, only Josh Hamilton and Michael Bourn remain. Both are fine players who have vastly different skill sets, but they have one thing in common: The Phillies should stay far, far away. Hamilton can be a beast with the bat, but he's 31 years old and has too many health issues to be worth a six- or seven-year contract. Bourn isn't a health risk, but he's a speed merchant whose value is tied to his legs, thanks to great defense and base-running ability. He's a decent enough hitter, but he has little power and will be paid like someone who is expected to hit 30 homers in a season.
It's more likely that the Phillies turn their eyes to the likes of Pagan, the 31-year-old who manned center for the World Champion San Francisco Giants last season. He doesn't have the speed or power that Upton has, but he's a good player, and he shouldn't command an exorbitant amount of money.
They could also consider bringing back Victorino, who doesn't figure to be a highly-sought-after player in this market. Almost 32 years old and coming off a rough season, The Flyin' Hawaiian could be had a very affordable price. He isn't the ideal candidate to fill center, but he's familiar with the team and should come at a good price.
If all else fails, then there is the distinct possibility that they make a trade for someone like Colorado's Dexter Fowler, or Minnesota's Denard Span, both of whom have been rumored to be on the trading block. But given the state of their farm system, the odds of a trade occurring are remote.
With the Upton signing, I would expect the Phillies -- and other teams in need of a center fielder -- to move in quickly on other free agents. It's a position that needs filling, and Amaro is not one to wait around.