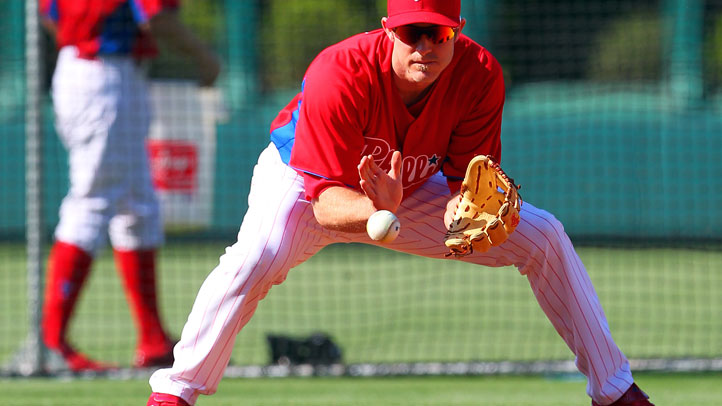 The story of the 2012 Phillies, so far, has been their ability to stay afloat (sort of) despite numerous injuries to key players. Even before the season started, the Phillies knew they would be without Ryan Howard and Chase Utley, and it didn't take too long before Cliff Lee and Vance Worley hit the shelf.

The most recent victim to whatever curse is haunting the Phillies this season is Roy Halladay, who will miss 6-8 weeks due to an injury to his latissimus dorsi. And on Wednesday, Halladay held a press conference along side Phillies trainer Scott Sheridan, where they address his injury and the implications for the rest of the season, and the rest of his Phillies career.

The only new nugget of information to come out of this press conference was Doc's rehab plan, which consists of three weeks off from throwing, at which point, he will be re-evaluated before proceeding with rehabilitation, as he looks to get back onto the mound near the end of July, or early August.

Meanwhile, down in Florida, things are looking a little brighter for the Phillies offense, as both Ryan Howard and Chase Utley took part in an extended spring training game on Wednesday morning.

The good news is that all of Ryan's and Chase's both parts are attached, so there's that. The better news is that both looked good during the game. At least, good enough considering.

CSN Philly's Jim Salisbury was on the scene, and he did a nice write up on the action. The important stuff: Ryan went 2-for-4 with a pair of walks, and Chase went 2-for-5 with a walk, a double, and a homer. And even more importantly? Both of them looked good.

The stats don't really mean anything, because it is extended spring training, and neither Utley nor Howard played defense, so they still have some work to do before they get back on the field. The big test is how both of them hold up over the next few weeks, and if either of them hit any snags along the way in their rehab, but only time will tell. At any rate, things certainly are looking up for Howard, Chase Utley, and the Phillies.