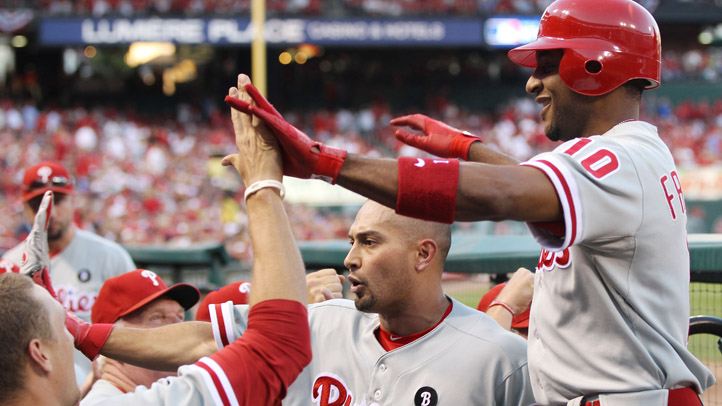 Ben Francisco came through in a "pinch" to lead the Phillies to a 3-2 win in Game 3 of the NLDS as the Phillies closed to within one win of advancing to their fourth-straight NLCS.
Francisco hit a two-out, pinch-hit homer in the top of the seventh to get the Phillies on the board against Cardinals lefty Jaime Garcia (0-1). Up to that point the Phillies had managed just four singles off the tough St. Louis lefty.
Francisco's shot was only his second hit in 19 postseason at-bats and 13 plate appearances against Garcia.
"I knew the way the game was going I was probably going to be in there to pinch-hit off a lefty," Francisco said. "Got up there with a runner in scoring position, I was just trying to get a hit up the middle and he left one up and luckily it got out of here."
Francisco's blast made a winner of Cole Hamels (1-0) who used 117 pitches while allowing five hits and three walks while striking out eight in six shutout innings.
Once Hamels was gone, rookie Vance Worley allowed three hits and a run in an inning-plus of work. After Brad Lidge failed to get an out, Ryan Madson came on for a five-out save. Mad Dog worked out of a one-out bases-loaded jam in the eighth by getting a double play before allowing a run in the ninth.
But Madson got Ryan Theriot to groundout (the pesky infielder's first out of the day) to end the game.
The win put a damper on St. Louis manager Tony La Russa's 67th birthday. Sorry Tony.
The Phillies now send righty Roy Oswalt to the mound Wednesday in Game 4. Righty Edwin Jackson is set to start for the Cardinals.