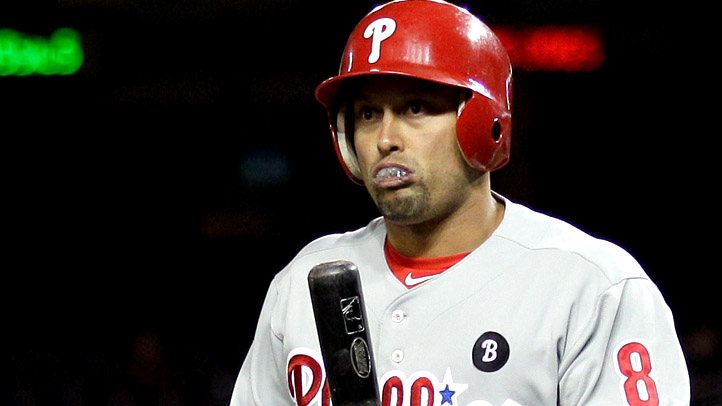 There must have been a full moon or something down in Atlanta Friday night as the Phillies came back to beat the Braves 5-4.
Well there wasn't a full moon but it was Friday the 13th and it seemed that luck was on the Phillies side.
Ryan Howard gave the Phillies an early lead with a three-run homer off Braves starter Brandon Beachy (who left in the top of the third with an apparent oblique strain) in the top of the first but over the next six innings the Braves chipped away at Phils starter Cole Hamels while Atlanta reliever Cristhian Martinez retired 12 straight Phillies.
The Braves eventually took a 4-3 lead heading into the seventh after a Hamels wild pitch.
That is when things really got goofy.
After a Jimmy Rollins two-out double off Cory Gearrin, the Braves turned to veteran lefty Eric O'Flaherty (1-2) to face Shane Victorino. It appeared that O'Flaherty got Victorino to look at a would-be strike three – catcher Brain McCann even headed towards the dugout – but home plate umpire David Rackley erroneously called it a ball.
Victorino used his second chance to drive home Rollins for the tying run.
In the bottom of the seventh J.C. Romero loaded the bases with just one out but young hurlers Michael Stutes and Antonio Bastardo (2-0) both got strikeouts to end the threat.
In the top of the eighth Ryan Howard got to second after Braves right fielder Joe Mather bobbled a would-be lead off single. Ben Francisco would strikeout but Raul Ibanez would follow with a seeing-eye single to right. Mather had a strong throw home that beat Howard by about 10 feet but McCann couldn't handle the short hop allowing Howard to score the game-winner.
Vance Worley would pitch a scoreless eighth and Ryan Madson pitched a scoreless ninth to earn his sixth save.
The win pushed the Phillies to 25-12 while dropping Atlanta to 21-19. The same teams face off Saturday at 1:10 as Joe Blanton (1-1, 5.83 ERA) takes the hill against Jair Jurrjens (4-0, 1.50) as the teams pay tribute to the Negro Leagues by wearing throwback uniforms.