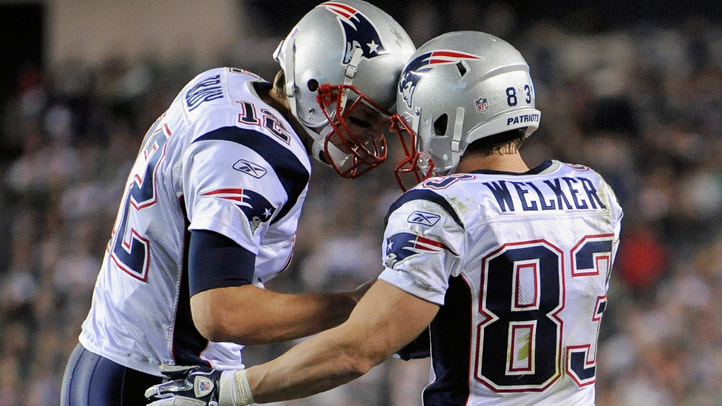 The Eagles defense time and time again failed to get off the field -- missing tackles and assignments -- as they allowed Tom Brady and his Patriots (8-3) to pick apart the carcass that remained of the Birds' possible playoff chances in a 38-20 loss.
Yes, the 4-7 Eagles remained alive in the playoff hunt but Sunday's loss just about ended any chance of a wild card and unless the Cowboys fall apart, the Eagles are looking towards the future and not the now despite out-gaining New England 466 to 447 yards.
Brady threw for 361 yards on 24-for-34 passing (71 percent) while throwing for three touchdowns and no interceptions (a 134.6 passer rating).
The future Hall of Famer's favorite targets were reliable wideouts Wes Welker and Deion Branch. Welker hauled in eight balls for 115 yards and two scores -- including a 41-yard TD grab where he was seemingly uncovered -- while Branch hauled in six passes for 125 yards.
On the other side of the ball Eagles backup QB Vince Young threw for a career-high 400 yards on 26-for-48 passing (54 percent) but managed only one TD while throwing one interception for an 80.2 passer rating.
Young found WR Jason Avant eight times for 110 yards and a score, TE Brent Celek five times for 75 yards, WR DeSean Jackson four times for 73 yards and WR Riley Cooper three times for 71 yards. But the Eagles receivers and RB LeSean McCoy had their share of dropped passes along the way. Jackson was even apparently benched in the fourth quarter for dropping at least a couple passes.
Coach Andy Reid would neither confirm nor deny benching Jackson in the fourth quarter.
So was Jackson -- who is mired in a contract dispute -- letting concern for his health factor into how he plays.
"Always. Always got to keep your head on a swivel," he said.
Was he worried about his health when he dropped the TD?
"What'd you think?" he said as he walked away from reporters.
The Eagles actually jumped out to a 10-0 lead after a pair of bombs to Celek and Cooper set up a Shady McCoy 2-yard rush TD -- his 13th score of the season. They then followed a defensive stand with a 7-play, 55-yard field goal drive.
Talking about McCoy, the NFL's leading rusher (1,050 yards) was only given 10 attempts for 31 yards as the Birds basically abandoned the running game in the second half. Young actually led the Birds with 40 yards rushing on six runs.
BenJarvus Green-Ellis led the Pats with 44 yards on 14 carries including a pair of touchdowns.
After the early scoring flurry, it was all Patriots as the Eagles defense quickly cowered away from contact -- only once sacking Brady and missing tackles on almost every big play. The Pats would outscore the Eagles 38-10 from 8:23 in the first quarter on.
New England had a 21-10 lead late into the second quarter when, after Jackson's drop in the end zone, Reid's team settled for a second Alex Henery field goal to cut the lead to eight at the half.
The three biggest areas of failure for the Birds (besides poor tackling) were in the red zone where they were 2 for 4 compared to the Pats 4 for 5; on the penalty front where the Birds were tagged 10 times for 60 yards compared to just 3 for 20 for New England; and on third down where the Eagles were just 4 for 13 compared to the Pats' 6 for 11.
"Penalties and turnovers -- you can't do that, especially against good football teams," Reid said. "You have to be more disciplined than that."
The loss now drops the Eagles to 1-8 at home since they beat the Texans at Lincoln Financial Field on Dec. 2 of last year. They are a pathetic 1-5 at their own house of horrors this season alone.
Angry fans chanted "Fire Andy!" in the second half -- a show of frustration for another underwhelming Eagles performance.
"The way we played, I can understand," Reid said.
The Eagles don't have any time to lick their wounds as they have to travel across the country for a Thursday night game against the 4-7 Seahawks.