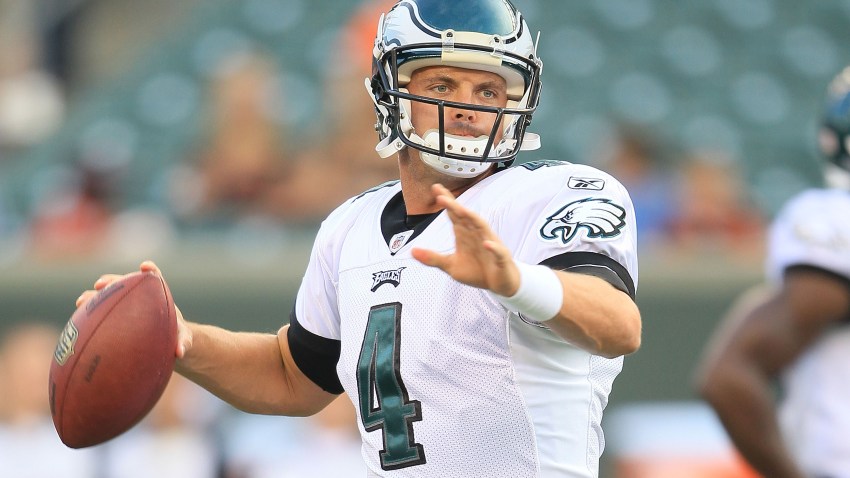 The main storyline going into Sunday's showdown with Green Bay revolves around Packers quarterback Aaron Rodgers and how many points he will put up on the young Eagles defense. Green Bay has been one of the most hyped teams this offseason -- largely because of Rodgers's ascension into the elite group of quarterbacks.
It seems to me that, at the end of the day, Rodgers and the Packers are going to score points. Hopefully the revamped Eagles defense will have enough to keep the scoring from getting out of hand, but the biggest question mark going into the game is really:
Can Kevin Kolb and the offense keep up with the Packers' high scoring attack?
Most fans seem upbeat about Kolb as we go into the season, despite his anemic preseason numbers. However, he's going to have to light it up this Sunday -- throwing his first touchdown of the year and more -- if the Eagles want to win.
It's not all on Kolb. The perpetually injured offensive line seems to be finally healthy, but have they gelled enough to stop a 3-4 pass rush that had 37 sacks last year? LeSean McCoy has shown flashes of potential, but can he step up when it counts?
But, at the end of the day, this offense is almost exactly the same as the explosive 2009 edition. The only change is at quarterback. For Kolb, all his potential and possibility come down to this first start of the year, and proving how close he is to making his team a Super Bowl contender.
Put up or shut up, kid. It's only the future of the entire Eagles franchise on the line.
What do you think is the key to the Eagles opener?