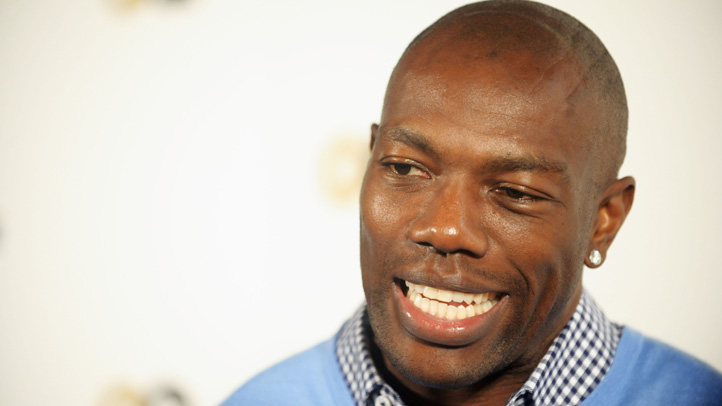 One of the most anticipated preseason debuts involves a former Eagle looking to fly with his new team.
Peyton Manning's debut in Denver won't hog all the attention Saturday night. Terrell Owens will be taking some himself.
Owens will make his return to the NFL when the Seattle Seahawks play the Broncos. Seattle coach Pete Carroll didn't give specifics on how many snaps Owens will get in the second preseason game for the Seahawks, but he did say it would be early in the game.
"I'm not going to tell you how many plays it will be," Carroll said. "We'll see how it goes."
Owens joined the Seahawks on Aug. 6 and had just a couple of days of practice before the preseason opener against Tennessee. Carroll said he didn't think it was fair to run Owens out there that quickly, but feels he's ready after two weeks of work.
T.O. arrived in camp in excellent shape and has looked impressive at times during practice. But if he's to make the Seahawks' final roster, Owens will need to show in a game that he's fully recovered from a knee injury that kept him out of the NFL for the entire 2011 season.
Saturday against the Broncos will be his first NFL game action since Week 15 of the 2010 season with Cincinnati. Owens went without a catch in that final game against Cleveland.
"He's ready to go," Carroll said. "He had two good weeks of work, and he came in in great shape so he's ready to go."
The game against Denver will also be the first chance for Carroll to get a look at most of his receivers and try to figure out what has become a jumbled position. The arrival of Owens and Braylon Edwards added to a corps that included Sidney Rice, Doug Baldwin, Golden Tate, Ben Obomanu, Deon Butler and Ricardo Lockette.
Carroll and the Seahawks coaching staff must decide how many of those receivers to keep and whether holding on to veterans Owens and Edwards would trump giving shots to younger players like Butler, Lockette and others.
Additionally, there is the concern about Rice's health. Rice is coming off surgeries on both shoulders over the winter. He was cleared earlier this week for full practice after being stuck in a red no-contact jersey for the first two weeks, but won't play against the Broncos.
Owens, who spent two controversial seasons with the Eagles, has been working at the flanker position in the Seahawks offense behind Rice. Edwards has been mostly with the No. 2 offense at split end behind Tate.
"I like our group a lot, and we've become even more competitive and more experienced with the guys that will come in to add to it," Carroll said. "We're just going to wait. We don't have to do anything right now. We just keep giving these guys turns in practice and get familiar and comfortable with them and also see them in the games, and add it all up together at the end. It's a really good position group for us right now."
Copyright AP - Associated Press