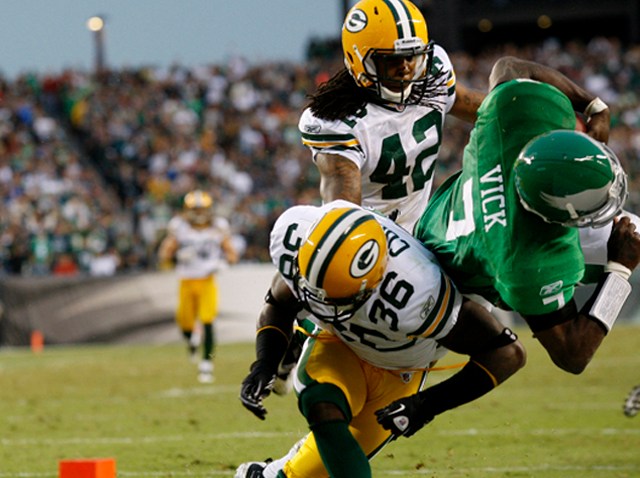 Every week during the season, we'll scout out the Eagles next opponent. This week, that opponent is the Green Bay Packers with the season on the line.

The Opponent: The Green Bay Packers, aka Ding Dong the Favre Is Dead.

Record: 10-6, second in the NFC North.

The Line: Eagles by 2.5. Not the full three points? DISRESPECT!

Last Game: A 10-3 win over the Bears that secured Green Bay the sixth seed and a date with your hometown Eagles.

The Coach: Mike McCarthy. I saw McCarthy's post-game press conference last week after the Pack made the playoffs. Man, he's a live wire. I've seen pieces of granite more animated than McCarthy. I wanna fall asleep just looking at him.

The Offense: This offense was on a hot streak until Sunday when the Bears got a hold of them and dared them to win by running the ball (they couldn't). Unfortunately, the Eagles don't exactly have the caliber of pass defense that Chicago does, which means it'll take an A-plus game from Asante Samuel and company to hold Aaron Rodgers and Professor Greg Jennings in check. Or they could injure Rodgers. I guess that would be easier.

The Defense: The Packers' linebacking corps leads the entire NFL in flowing golden locks. It's a little known fact that AJ Hawk and Clay Matthews often moonlight as a Nelson cover band. Ooohohhhohhhhhhh afterrrr the rain! Charles Woodson was a beast rushing off the edges last week, and I fully expect him to follow the Vikings' example with Antoine Winfield and blitz all day long Sunday and chase Mike Vick around the backfield.

Key Matchup: You vs. the Anticipation. It's the best game of the Wild Card round. Get your happy pants on.