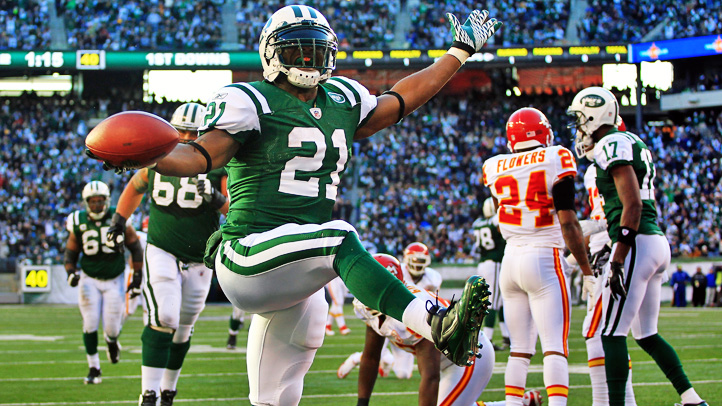 Every week during the season, we'll scout out the Eagles next opponent. This week, that opponent is the New York Jets.

The Opponent: The New York Jets, a.k.a. Gang Green, a.k.a. The Team That Just Keeps Hanging Around

Record: 8-5

The Line: Eagles by 3. Rats! A nice chance to be a home dog and we blew it!

Last Game: A 37-10 beat-down of the Chiefs that featured Shonn Greene actually serving in a useful capacity, with 129 yards rushing and 58 yards catching the ball out of the backfield. There's not much else to be gleaned from this victory, given that the Jets triumphed over Tyler Palko, who may go down as the worst QB to ever start an NFL game. I'm not exaggerating. That's three wins in a row for New York.

The Coach: Rex Ryan. And maybe you hate Rex for being so darn chatty all the time. But face it, wouldn't it be much more fun to have him as your head coach than Andy Reid? The Eagles hired the only fat man on Earth who ISN'T jolly. It's depressing. By the way, Ryan was born to concoct elaborate schemes to defend special players like Mike Vick.

The Offense: Running back LaDainian Tomlinson is slowly being eased back into the rotation with Greene. He'll probably see more action against the Eagles than he's seen the past three weeks. Mock Mark Sanchez all you like, but Roberto Humidor has thrown just one pick in his past three games. He also has 26 total touchdowns on the season already, and his TD:INT ratio has improved for the third straight season. He's still horribly inaccurate, and sometimes I watch him play and am simply aghast at how amateurish he can look. And yet, Sanchez has a knack for defying your expectations just as the playoff races begin to heat up. He certainly has the targets to do some damage.

The Defense: Remember, the Jets were the team that everyone thought was going to land Nnamdi Asomugha before the Eagles swooped in and shattered the dream of New York having the greatest defensive backfield ever. But God loves himself some irony, and so the Eagles have given up nearly TWICE as many touchdown passes with Asomugha as the Jets have without him. Brutal. This is a Rex Ryan defense, so expect the phrase "exotic blitz" to be used 700 times during Sunday's broadcast.

Key Matchup: Darrelle Revis vs. DeSean Jackson. DeSean played well last week! I don't believe it! Keep it up and this team might find itself miraculously atop the NFC East by season's end.