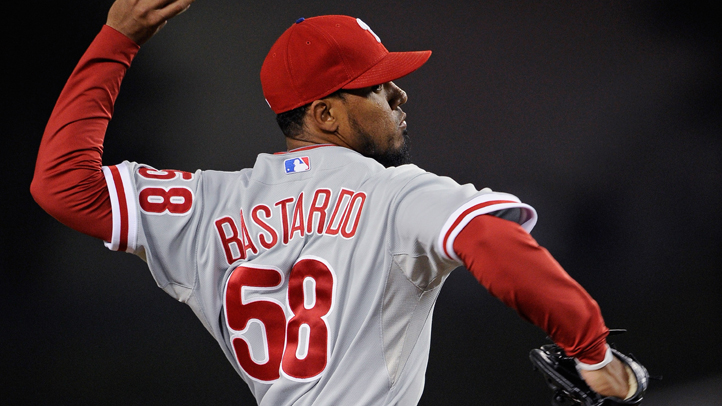 The rise of Antonio Bastardo is an interesting and surprising one. When he made his Major League debut in 2009, he did so as a starting pitcher that didn't project to be anything more than the back-of-the-rotation guy. He won his first two career starts, where he pitched well enough (11 IP, 3 ER, 9K), but that would ultimately prove to be the high point of his rookie season, as he lost his next three starts, where his performance ranged from middling to miserable.

Following that season, the young lefty was moved to the bullpen, where his ability to strike hitters out, despite some iffy command, could be put to work in the late innings of games, specifically against left-handed hitters. He finished that season with a 4.34 ERA – not bad as far as relievers are concerned – with K/9 rate of 12.5.

However, he was still a bit of an enigma and an unknown quantity, thanks mostly to a walk rate (4.3/9) that left the team wondering how effective he could be in the late innings.

Those concerns appeared to have been answered in 2011, as he blossomed into a very effective setup man; a strike throwing machine that handles both left and right handed hitters with ease to help form one of the most dominant bullpens in the game.

Through August, Bastardo found himself with an ERA of 1.42 in 50.2 innings pitched, where he set down 62 by way of the strikeout. He mostly occupied the eighth inning, but when the time came, he filled in admirably for Ryan Madson and went 8-for-9 as the team's closer.

However, it appears that Bastardo has not been himself lately, as he's allowed four runs in his last three outings. Two of those runs came in Friday night's win over the Milwaukee Brewers, where he was lifted after allowing a single and a walk without recording an out. That appearance was the fifth of the month, and he's allowed four runs, four walks, along with four strikeouts, in that span of 3.2 innings.

It's entirely likely that it's just a rough patch for the youngster, because after all, small sample sizes can wildly skew the results and make it appear that something is afoot when there really isn't. But it could be that Bastardo, in his first full season as a big leaguer, is getting tired. At 54.1 innings pitched, it's the most he's ever tossed in a season as a reliever, and it's only going to rise.

But with the playoffs looming, the Phillies need only do one thing: don't pitch him. At all.

It's almost a foregone conclusion that the Phillies are going to be playing October baseball, so it's not as if they need to play every game from here on out like it was of life-and-death importance. And because of that, Bastardo doesn't need to see any action, at all, for the next week or so. He's literally the second (or first) most important arm in the bullpen, so come postseason time, it's imperative that he is fresh and ready to take the hill against whoever, whenever.

These games, right now, are moot. It's not as if though the Phillies are going to suddenly start losing games just because Bastardo isn't getting an inning's worth of work, so there is no reason to use him except to keep him from getting rusty.

Besides, with his spot in the late innings open for business, it gives Charlie and Co. a chance to see what else they have to work with, namely in the form of Michael Schwimer (and hopefully, some future September call-ups by the names of Aumont and De Fratus).

Bastardo has been so good all season, and it is absolutely in the team's best interest for him to stay that way for when the games really matter.