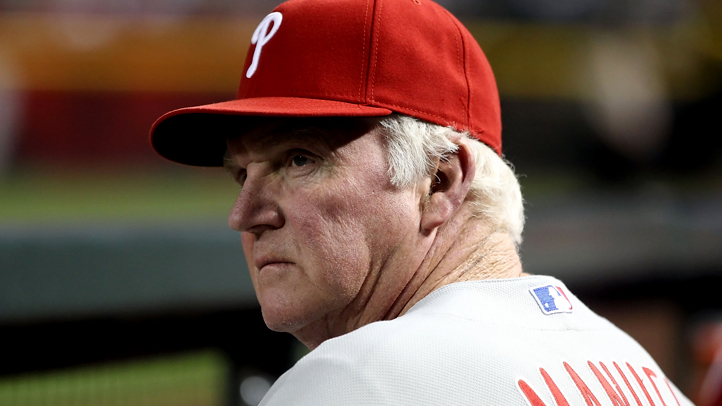 If you're like me, then the bottom of the ninth inning during Tuesday night's loss to the St. Louis Cardinals didn't make sense. With a bullpen that is already short a man and dealing with injuries to a pair of its better arms in Jose Contreras and Brad Lidge, the Phils were left with a choice: Tied at 1-1 in the bottom of the ninth, on the road, do you send out the best remaining arm, Ryan Madson, to face the top of the Cardinals' order, or do you go with Danys Baez, J.C. Romero or Scott Mathieson?
Given the fact that Baez and Romero should never really be trusted with in important inning and that the Phillies don't appear to be willing to use Mathieson in anything other than garbage time, it was clear that the best choice was Madson, who has been as good as anyone else in the National League.
Of course, Managing 101 has a clearly defined set of rules when it comes to using your closer in a tie game on the road, which is to say, it quite frankly doesn't allow such madness. Subsequently, Charlie Manuel opted for Baez, who promptly loaded the bases with no outs before retiring Matt Holliday, prompting Manuel to pull him for Romero, who turned his first pitch into a game-winning single off the bat of Lance Berkman.
We all saw it unfolding long before Berkman stepped into the batter's box and before Baez, who has been an unmitigated disaster in his tenure with the Phillies, threw his first pitch. And then, to hand it off to Romero, a notorious non-strike thrower, with the bases loaded? Get the shrimp ready, baby, because this is tragicomedy of the highest form.
It was a mess of an inning that finished off a mess of a game that was a finale to a very messy road trip for the Phillies. But was this mess the high murky-water point of Manuel's career? Fellow blogger Corey Seidman of Phillies Nation fame (And BrotherlyGlove.com -- it's a fantastic read if you have a chance) seems to think so:
This was the worst managed inning of Charlie Manuel's Phillies tenure.

Nothing about it made sense. Nothing about it can be justified. Pitchers like Ryan Madson exist for situations like the ninth inning of Tuesday's game -- when St. Louis had the top of the order due up. Madson can get righties and lefties out. Madson can make foolish even the best of hitters. Albert Pujols' 0-for-11 line vs. Madson is walking proof.
Worst managed inning of his tenure might be an exaggeration, because we'd need to comb through thousands upon thousands of innings to parse out all that data, but I suspect that, in the end, Seidman would be proven correct in some capacity. Indeed, I can't imagine too many worse innings than that one.
But this isn't exactly new territory, because as far as I can remember, Charlie has rarely been lauded for this in game management and decision making.* Countless times has he sent the wrong guy to the plate or not pulled a pitcher or, as mentioned above, put a woefully overmatched pitcher in a tight spot.
*In fairness, Charlie beautifully managed an extra inning game against the Mets in 2008, where he put Carlos Ruiz at third base in order to save Eric Bruntlett for pinch hitting duty. Bruntlett would go on to the tie the game with a two-out double in the ninth inning, and the Phillies went on to win in 13.
Charlie is often referred to as a "player's manager," and I suppose that's true, even though it might not mean much of anything other than "his players like him and the clubhouse seems to be conducive to building an attitude of success." There is value there, but I'm not so sure how tangible that actually is. While that is important, it can pale in comparison to the strategic impact that he has on the games, namely ones like Tuesday night's loss to the Cardinals.
I'm not calling for Manuel's head or anything, because the man does about as good a job as any other manager, he's a good fit for the city, the fans love him, and his inflection and verbal cues take me back to a much simpler time. Also, the man single handedly started a trend. Can't put a statistic on that.
But with the offensive struggles the team is going through right now, which can best be summed up as "fielding a team of mostly minor leaguers," the Phillies cannot afford to have gaffes coming from their manager as well as half of their lineup.