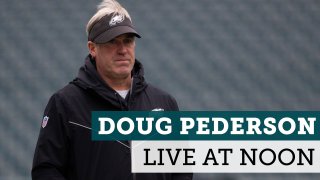 Live at 12 p.m. ET, Doug Pederson addresses the media after the Eagles' loss to the Dolphins.
The Birds have lost three straight games with four left in the season. They are now 5-7 and in second place in the NFC East behind the 6-6 Cowboys.
The Eagles' final four games are all against division opponents and are crucial to make the playoffs.
The live stream will begin below shortly before 12:00 p.m. ET. Be sure to stick with NBC Sports Philadelphia for the latest on the Eagles as they prepare for Week 14 against the Giants.
.embed-container { position: relative; padding-bottom: 56.25%; height: 0; overflow: hidden; max-width: 100%; } .embed-container iframe, .embed-container object, .embed-container embed { position: absolute; top: 0; left: 0; width: 100%; height: 100%; }
Copyright C