This story is no longer being updated, click here for the latest parade information.
Put those day off requests in now: The City of Philadelphia will honor our Super Bowl champion Eagles with a parade up Broad Street on Thursday morning.

City officials said Monday that the parade will tentatively begin at 11 a.m. at Broad Street and Pattison Avenue in South Philadelphia. The parade will head north on Broad Street to City Hall and then turn up the Benjamin Franklin Parkway ending at the "Rocky Steps" at the Philadelphia Museum of Art.
The city was hoping to have the event on Wednesday, but all-day rain forecast for that day prompted Thursday plans.
Thursday will be cold and breezy so make sure you bundle up if you're heading to the parade.
Before sunrise there could be a brief snow shower or rain/snow mix, but that will clear the area by dawn and any lingering clouds will give way to partly sunny skies by late morning. Temperatures will be below average in the upper 20s at 11 a.m. and reach the low 30s by 1 p.m. Winds will be from the northwest 10-15 mph gusts to 30 mph and a wind chill in the 20s.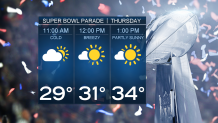 City officials will release more details on Tuesday at 9 a.m.
And, Bud Light is keeping its promise to buy beer for Eagles fans by giving out an alcoholic refreshment to fans, 21 and older, at taverns along the parade route.
The Eagles, by the way, returned to Philadelphia around 2:30 p.m. Monday.
SEE PHOTOS: Rowdy Fans Hit the Streets After Eagles' Super Bowl Win
[NATL]In Photos: Philadelphia Eagles Beat New England Patriots to Win Their 1st Super Bowl