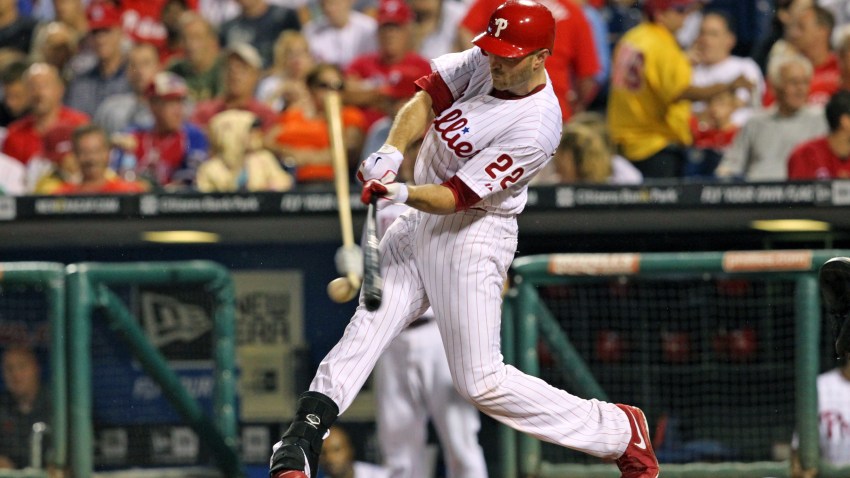 The hits just keep on coming for the Phillies, who announced Monday morning that newly acquired outfielder Nate Schierholtz is heading to the disabled list thanks to a fractured big toe. Hector Luna was called up from Triple-A Lehigh Valley to take the roster spot.
The injury occurred during the bottom of the 10th inning of Sunday's 8-7 win over the Cardinals, where Schierholtz fouled a ball off his foot during his only at bat of the game.
It's bad luck for the Phillies, who can't seem to keep anyone on the field this season. It's not as if Schierholtz was going to be a difference-maker over the last two months of the season, but with nothing left to play for, it'd be nice to see what you have in stock for 2013.
Since being acquired from the San Francisco Giants in the Hunter Pence deal, Nate has a not-so-impressive line of .219/.278/.344 with one homer and two RBIs in 11 games. Nothing to write home about, but he's one of the guys that will likely be given a good amount of playing time next season, so it behooves him to impress as much as he can.
To replace him, the Phillies turn to the veteran Hector Luna, who has had a few cups of coffee with the team already this season. He's versatile enough on defense, and he can play both corner outfield and infield spots, even though he really can't hit all that well.
Schierholtz going down could lead to Domonic Brown -- who has spent most of his time in left -- being moved back to right field, where he can continue his defensive development. The Phillies can also mix-and-match with the rest of their bench to fill out the remaining outfield spots.
Ultimately, this really isn't that big of a deal for the Phillies, but, man, these injuries can stop whenever.