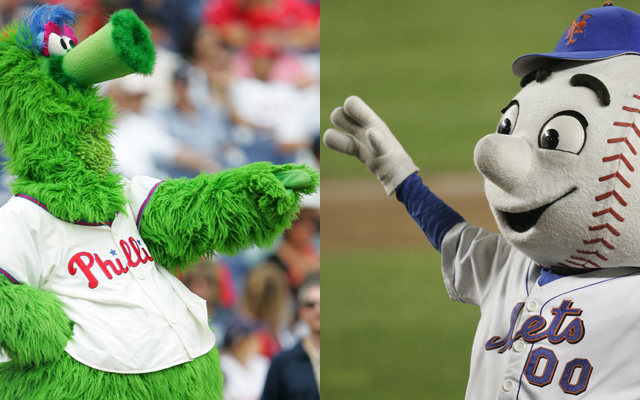 In what we'll call a shocking new survey published by Forbes and conducted by The Marketing Arm's Davie Brown Index, Mr. Met was voted as America's favorite sports mascot in 2012, edging out past winner the Phillie Phanatic.
Seriously, though? What's so great about Mr. Met? He's nothing but a guy walking around with a giant baseball as his head. Two notes from the Mets official site: His baseball head began to swell with the win in '69 -- and grew still larger from '73 to '86 to the Subway Series in '00. And second, Mr Met's head is the only earthbound orb with its own gravitational pull, explaining why fans are so drawn to him. We might be a bit biased here in Philly, but the Phanatic is so much more than that.
The survey measured people's perceptions of celebrities and their influence on brands, and with regard to sports mascots, took into account awareness, likeability and breakthrough (meaning the degree to which consumers take notice of the mascot when he appears at the stadium and on TV, plus the degree to which people are able to match a mascot to his team).
"That's blasphemy!" Francis Winkey, Aramark merchandise manager at Citizens Bank Park, where the wildly popular Phanatic has two stores of his own stuff — the Phanatic Attic and All Things Phanatic, told the Philadelphia Daily News. "Who took this poll — New Yorkers?" Winkey fumed. "Did they just ask people in Queens? I don't even know what Mr. Met does. Does he have a shtick? Does he have a dangle hat?"
What does Tom Burgoyne, the Phillie Phanatic's closest pal, think of the news?
""The Phanatic wants to congratulate Mr. Met," Burgoyne said. "I hope he doesn't get a big head over this. But it might be too late."