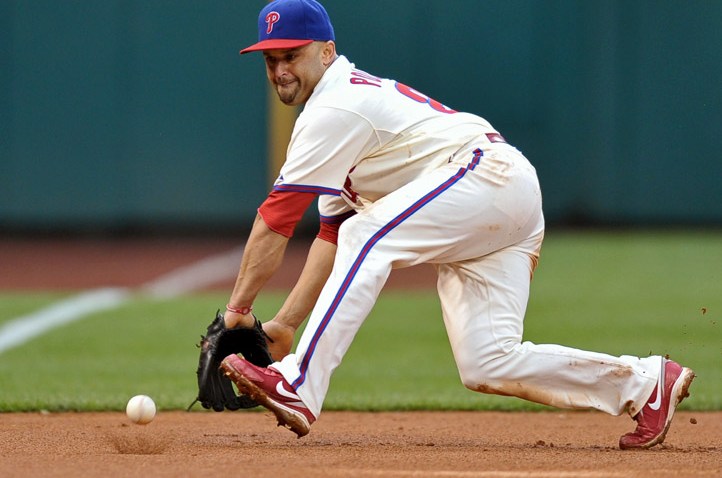 On Monday, the Phillies declined the 2013 options of three players: IF Placido Polanco, IF/OF Ty Wigginton, and RHP Jose Contreras, making them free agents.
Not a lot of surprises here. Polanco, who hit .281/.330/.356 with 13 homers in three seasons in his second go-round with the Phillies, struggled to stay on the field for much of 2011 and 2012. This season, he had a .629 OPS in 90 games, and at times seemed unable to hit the ball out of the infield.
While his defense at third base was superb, his bat was a serious liability, and certainly not worth the $5.5 million he would have been owed in 2013.
Wigginton, who saw time at first, third and left field in 2012, had 11 homers and a .688 OPS in 125 games in his first season with the club. All things considered, he was a decent player that had enough versatility and enough pop in his bat to make somewhat of a difference on the field. He's probably more well served being a bench player -- something the Phillies sorely need -- and it wouldn't surprise me if the Phillies brought him back in 2013 on half his 2012 salary.
Contreras, who was a revelation out of the bullpen in 2010, unfortunately could not stay healthy over the last two seasons, thanks to a series of elbow injuries that kept him off the field.
When he was able to pitch, he struck out more than a batter per inning and proved to be one of the most reliable relievers on the team. But thanks to the youth movement in the 'pen plus his injury history, his $2.5-million salary in 2013 was not a sound investment.
Although they are now free agents, it is possible that one or more of these players will re-surface on the Phillies as bargain-buys in 2013. Given the right circumstances (and health), all three players could provide some value at the right price.