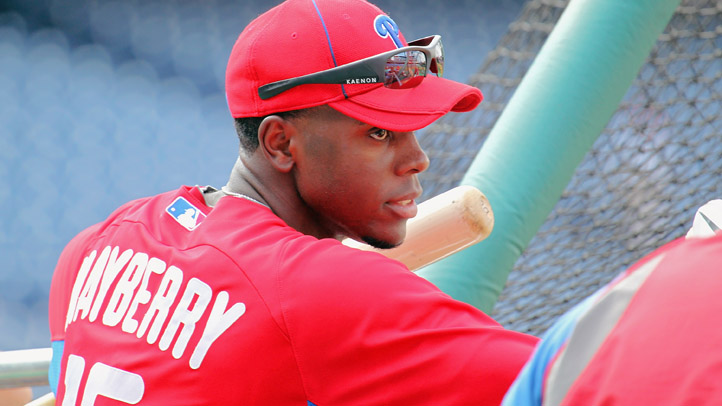 Perhaps all the rain the Phillies have seen lately has John Mayberry, Jr. wondering what it would be like to actually live under the sea.
Mayberry has his sights set on Antoinette Nikprelaj, who played the part of a mermaid in the latest "Pirates of the Caribbean" installment, and his CAA (Creative Arts Agency) representative has been trying to make the actress part of his world, according to the New York Post.
In an e-mail from Mayberry's CAA representative to Nikprelaj's agency:
"I imagine you're familiar with CAA and some of our clients, as we work with Ryan Howard, Roy Halladay, Buster Posey and Andre Ethier among others.

"I hate to even be sending you this e-mail, and I'm quite embarrassed to say the least, but we have a young client on the Philadelphia Phillies who asked us if we knew any agents at Innovative Artists and could connect him to Antoinette Nikprelaj.

"I know you're not a dating or set-up service, but John Mayberry Jr. (Phillies OF) would love to meet Antoinette or invite her to a baseball game sometime. Would this be possible?"

He added, "Here's a bio of John to give you some more info on him (he's a great guy, down-to-earth, humble, Stanford-educated, etc.) Thanks for considering this as you know how this business is and servicing clients."
If Nikprelaj isn't impressed with his college transcript, or if her, uh, husband takes issue with her dating someone else, maybe Daryl Hannah still has that mermaid outfit laying around (bonus: she's single!).
Teammate Hunter Pence is taking a different approach for finding Mayberry a date:
Unconventional? Perhaps. But if the mermaid thing doesn't work out for him at least there are plenty of fish in the proverbial Twitter sea. Although, he may not be taking Vance Worley up on his suggestion to join the social media world until things blow over.