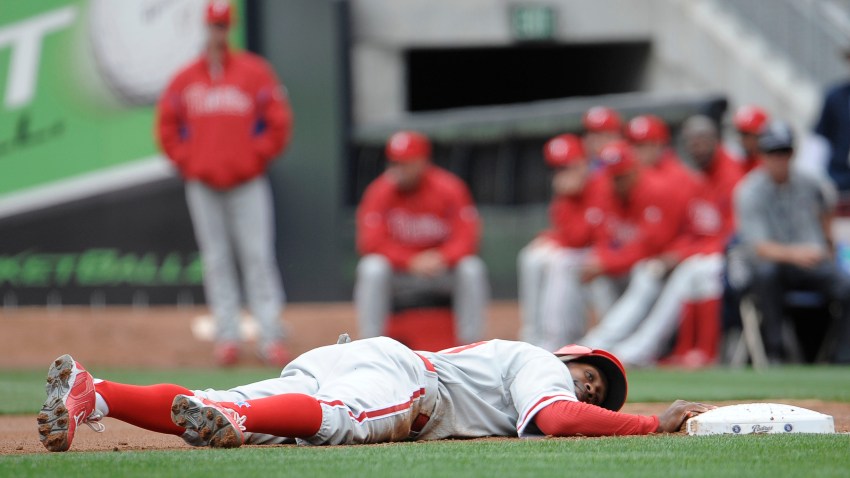 When the Phillies lost Sunday afternoon to the Chicago Cubs, they did something that they haven't done in five years: Have a losing record in April.
Since their current streak of running the table in the National League East began in 2007, the Phillies haven't been plagued with the early-season doldrums that more or less buried them in the division in the middle of the last decade. Aside from 2007, when they went 11-14 in April, they've had winning records in the month's first season during their current run.
That streak ended on Sunday, when the Phillies went two games under .500 with one to play in the month. And even with a win on Monday night, the Phillies still exited the month of April with a disappointing 11-12 record.
Of course, the sub-.500 record in April is really where the similarities between those two teams end. Quite frankly, they couldn't be more different. The 2007 club could rake -- they led the National League in runs, on-base percentage, slugging, triples and OPS+. They finished second in home runs. Their lineup consisted of MVP Jimmy Rollins, prime Ryan Howard and Chase Utley, the criminally underrated Pat Burrell, the contract-yearish Aaron Rowand, and a breakout hitting Shane Victorino.
This team? Quite the opposite. They are below the league average in homers, doubles, triples, runs, batting average, on-base percentage, and slugging. Their only saving grace -- if you can call it that -- is that they have only been caught stealing twice, which leads the NL.

What this team can do, however, is pitch. It's no surprise, given that they've got Roy Halladay, Cliff Lee, Cole Hamels, Vance Worley and Jonathan Papelbon. Their 2.99 team ERA is fifth in the NL, their 126 ERA+ is fourth, and their walks/per nine innings is second.
The 2007 team was not so fortunate when it came to pitching. Their 4.73 team ERA was the fourth worst in the National League, and the highest among any team to make the playoffs. They were below average in just about everything else, too: hits per nine, walks per nine, strikeouts per nine. You name it, the Phillies were bad at it. And if you look at their rotation, you can see why. Aside from Hamels, they were a wreck. Adam Eaton was their big free agent signing. Freddy Garcia came over via trade and was hurt almost immediately. Brett Myers, who was an above average starter, was the setup man. Bad times to be a pitcher in Philly.
This season, if the Phillies have a lead, they are likely to hold it. In 2007, they were likely to give it away. And if you put up a six spot in the first inning on the 2007 Phillies, you better not let up, because it might not be enough. And if you did the same to the 2012 team? Well, let's just say that you could let your third-string shortstop pitch the remaining eight innings.
The most interesting thing about all of this, I think, is just how far the Phillies have come in order to be a team that is built around great pitching. It used to be that they had to slug their way to wins, while hoping that their starting pitchers gave them just enough to get the win. Nowadays, it's about quality starts and collecting all of the Aces you can muster, and hoping that the runs follow. Needless to say, it's a weird feeling, watching a Phillies team that seems to be incapable of scoring runs.
What does the rest of the season hold for the Phillies? Honestly? Probably more of the same. Unless they do something drastic with the offense, they are going to need to scrape together runs as best they can until Utley and Howard return.

Most importantly, if there is one thing that that 2007 team taught us, it's that a losing record in April doesn't mean you get buried in September. It just makes it a whole lot harder to dig out of that hole.