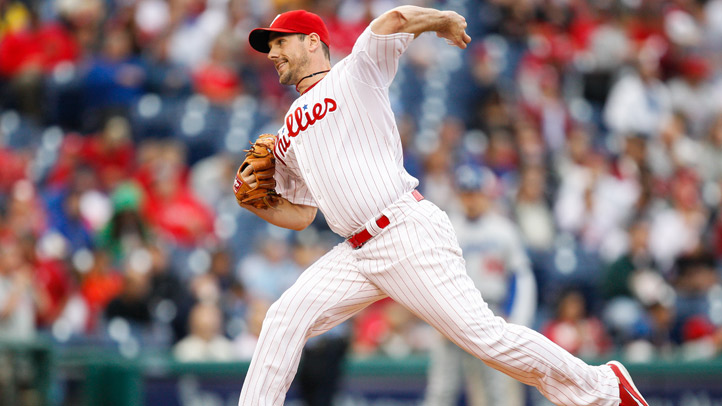 Elian Herrera hit a two-run double off winless Cliff Lee in the eighth inning and the Los Angeles Dodgers beat the Philadelphia Phillies 2-1 on Tuesday night.

Lee (0-3) took a two-hitter into the eighth and was a strike away from getting out of trouble before Herrera hit a 2-2 pitch off the left-field wall to put the Dodgers ahead.

Chad Billingsley (3-4) allowed one run and six hits in seven innings. Josh Lindblom worked the eighth and Kenley Jansen finished for his eighth save in 11 tries.

Lee gave up two runs and six hits in 7 2-3 innings, striking out a season-high 12.

Lee's record is no indication of the way he's pitched. The 2008 AL Cy Young Award winner has a 2.92 ERA, but has been the victim of poor run support. The Phillies have scored just 16 total runs in his nine starts. Lee couldn't even get a win when he threw 10 scoreless innings at San Francisco on April 18.

Herrera waited nine years to reach the majors. He's not going back to the minors anytime soon.

Herrera hit a tiebreaking RBI single off Jonathan Papelbon in a 4-3 win Monday night. He's batting .304 in 20 games and has started at third base, second base and center field.

Major league-leading Los Angeles has won three of four after losing five in a row.

The Dodgers had more than baseball on their minds. Earlier in the day, Hall of Fame manager Tom Lasorda was hospitalized in stable condition, a day after having a "mild" heart attack while representing Los Angeles at the Major League Baseball draft.

The 84-year-old Lasorda was resting comfortably and there was a chance he could return to California on Wednesday. Lasorda guided the Dodgers to 1,599 victories and won the World Series in 1981 and 1988, the team's last two titles.

The five-time defending NL East champion Phillies have lost four straight to fall a game under .500.

Hunter Pence drove in Philadelphia's only run with an RBI single in the first inning. He also made an outstanding defensive play in the eighth. Pence made an excellent, no-hop throw to third base to nail Tony Gwynn Jr. trying to advance from first on pinch-hitter Bobby Abreu's single.

Lee helped himself earlier in the inning with a defensive gem of his own after Matt Treanor led off with a double. Gwynn followed with a bunt, but Lee quickly got off the mound, fielded the ball and threw Treanor out at third.

However, with two outs and two on, Herrera ripped Lee's 122nd pitch of the night over left fielder Juan Pierre's head to drive in both runners.

Jimmy Rollins lined a double down the right-field line leading off the first. He scored on Pence's one-out single to left. Right fielder Andre Ethier prevented further trouble for the Dodgers by making a twisting, leaping catch in front of the right-field fence on Ty Wigginton's high drive.
---
Fan, follow and download: Get the latest from NBCPhiladelphia.com anytime, anywhere. Follow us on Twitter, Facebook and NBC Philadelphia. Sign up for our sports newsletter. And, get breaking news delivered right to your mobile phone -- just text PHIBREAKING to 639710 to sign up. (Message and data rates may apply.)
Copyright AP - Associated Press