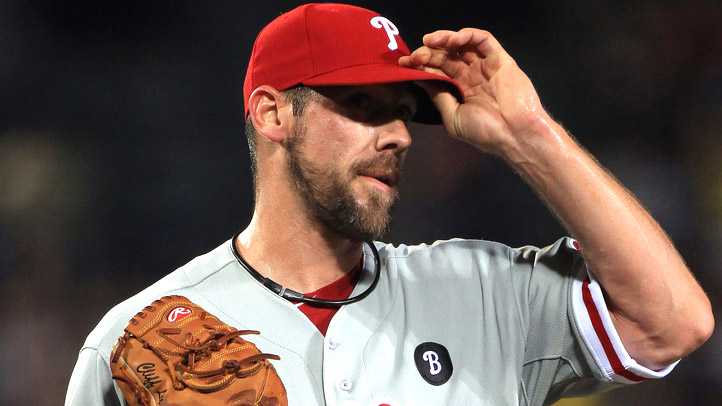 Cliff Lee looked anything but the free-agent pitching prize of the off-season as he failed to make it through the fourth inning of the Phils 6-3 loss in Atlanta Friday night.
Lee cruised through the first inning and took the hill in the second with the Phils up 3-0 thanks to RBI hits by Ryan Howard, Ben Francisco and Shane Victorino off Braves' starter Tim Hudson.
But the lead wouldn't hold. Lee allowed the Braves to tie it up on a triple to Jason Heyward, RBI double from Alex Gonzalez, single to Freddie Freeman, ground rule RBI double to Martin Prado and RBI groundout to Nate McClouth.
Things settled down in the third but in the bottom of the fourth Lee allowed three more runs on a three-run double by Chipper Jones. On the deep drive to center Victorino seemingly had a beat on the ball but dropped it allowing three runs to score.
Lee (1-1) was pulled after 73 pitches having allowed 10 hits, 1 walk and six earned runs while striking out three in 3 1/3 innings.
For as bad as Lee was the bullpen was stellar. Kyle Kendrick ended the threat in the fourth en route to 1 2/3 innings scoreless innings. Lefty Antonio Bastardo struck out six in two scoreless innings and J.C. Romero struck out two in a scoreless eighth.
But the Phillies offense sputtered again Hudson (2-0) including Howard tapping into a double play with the bases loaded in the fifth.
The loss dropped the Phightins to 5-2 and pulled the Braves to an even 4-4.
The same teams face off again Saturday afternoon at Turner Field as Brandon Beachy (0-0) faces off against third Phillies ace Roy Oswalt (1-0).