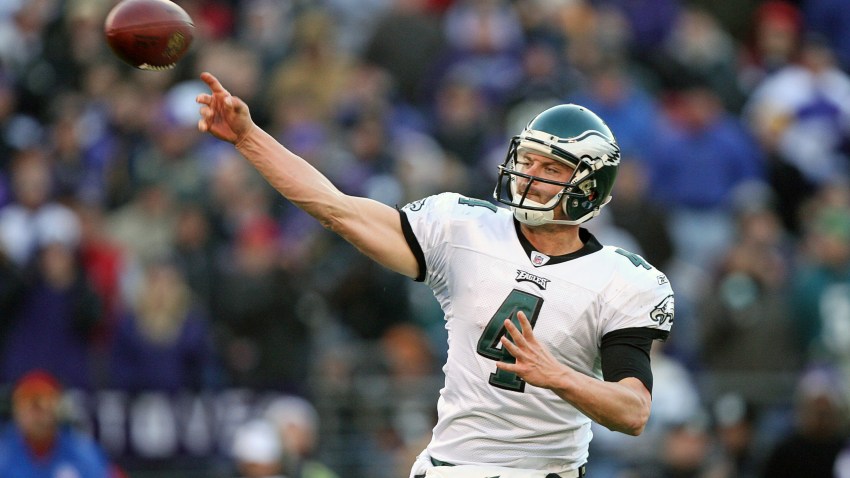 Kevin Kolb threw a 71-yard touchdown pass on Philadelphia's opening drive and got a sideline hug from an injured Donovan McNabb at Sunday's game against New Orleans.

McNabb sat out because of a fractured rib, allowing Kolb, in his
third year, to get his first career NFL start.

Kolb, had a unique start when he lined up to the right as part of Philadelphia's version of the wildcat on the third play from scrimmage. He connected with DeSean Jackson two plays later for the 71-yard score that tied the game at 7. McNabb greeted Kolb on the sideline with a smile and a hug.

Jeff Garcia, who rejoined the Eagles on Monday, is the No. 2 quarterback.

McNabb did not practice all week. He cracked a rib when he was took a hard shot in the end zone after his 3-yard touchdown run in last week's win at Carolina.

McNabb watched warmups in a T-shirt, black shorts and a visor. He stood nearby as Kolb practiced with the first team. Kolb, Philadelphia's second-round draft pick in 2007, took all the snaps with the starters this week and said he felt confident and prepared for his first start.

Kolb was 24 for 45 for 167 yards, no touchdowns and four interceptions in eight career games entering Sunday. He was 7 for 11 for 23 yards and sacked twice once he took over for the injured McNabb in the win against Carolina.

McNabb has missed 24 games, including playoffs, due to injuries during his first 10 seasons in the NFL. The Eagles are 14-10 in those contests. He played all 16 games last season for the first time since 2003.

Michael Vick is on the active roster but still must serve one
more week of his league-mandated suspension.

Copyright AP - Associated Press