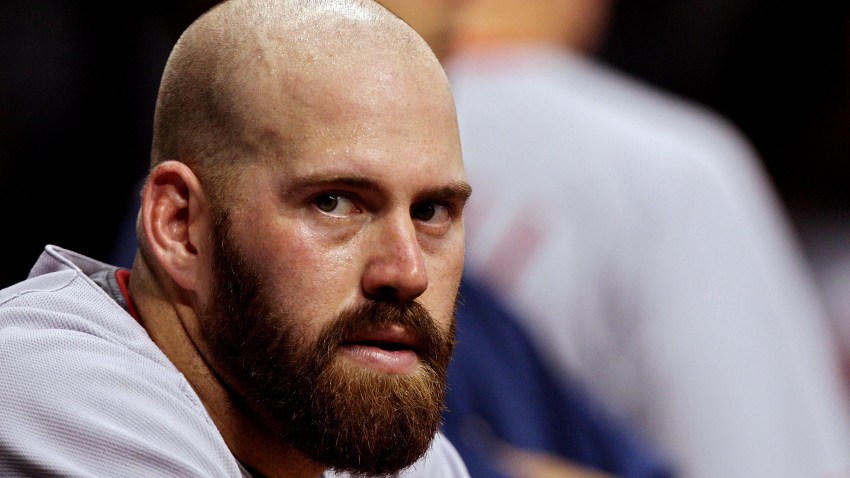 This much is certain: the Phillies need another bat in the lineup. And even though baseball's trade deadline is months away -- July 31, to be exact, for non-waiver trades -- with the Phillies scuffling at the plate, it's worth considering some possibilities.
Or a possibility anyway. More specifically, Red Sox third baseman Kevin Youkilis, who is reportedly on the trading block with the Phillies reportedly being potentially interested. (Yes, the vagaries of trading season are quite amazing.)
That's according to Nick Cafardo of the Boston Globe, who reported on Sunday that the Phillies and Giants are looking for someone with some power.
"The Giants are one of a few teams who are actively looking," a National League special assignment scout told Cafardo. "They would love a guy with some power. The Phillies are looking, and even though the Rays say they aren't, don't be surprised if they try to pick someone up."
Cafardo's report came amid a rundown of Youk, writing that "if he can show he's healthy, there's a strong third base market out there for the Red Sox."
Youkilis is available primarily because Boston called up prospect Will Middlebrooks, who has killed the ball, hitting .300 with four homers, 14 RBI and two stolen bases in just 12 games. Boston can certainly return Youkilis to third and move Middlebrooks around, but they might be more interested in shoring up a pitching staff that's giving up 5.19 runs per game on the season.
So would Youk work for the Phillies? Absolutely, if the price is right. And that price would almost certainly be right if the Phillies simply needed to give up fifth starter Joe Blanton, an idea that David Murphy of Philly.com posed.
Placido Polanco's hitting .288 on the season and .340 since May 1, so third base isn't a black hole by any means (not to mention Polanco's defense), but as Murphy points out, adding Youk would give Charlie Manuel some positional flexibility. Youk could play third or first and continue to move around when Ryan Howard returns.
The swap of Blanton for Youk might not seem like the sexiest of trades for Boston, but if the Phils were willing to take on some of the 33-year-old slugger's salary (he makes $4.5 million more than Blanton), it could certainly make sense as both guys are scheduled to become free agents (though Youk has a $1 million buyout in 2013).
But for two powerhouse teams that are currently dead last in their respective decision, it could certainly make sense to inject some new, relatively-cheap talent at a position of need if and when teams get serious about making deals.