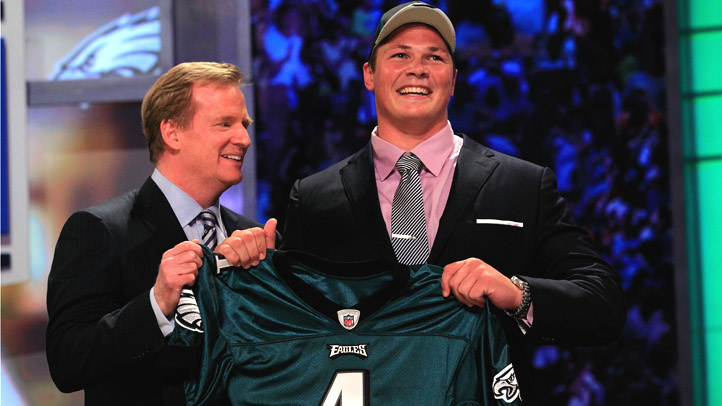 One of the headlines coming out of Howie Roseman's comments earlier this week (here and here) was that the Eagles GM is open to changing his draft strategy, given the results so far. His exact words were:
"I think those are things that you have to look at and kind of evaluate and see if maybe you're putting too much weight on one area and not another. Those are the things that you got to learn from and figure out."
It was a vague statement, but one I'm glad to see. The last two drafts have been poor overall, and it's vitally important that Roseman reevaluate his decision-making process going forward.
Regarding that process, Roseman had a few more quotes that shed light on some of the areas we had only assumed from his draft results. For example, Howie admitted that drafting the best player on the board is difficult when "human nature" gets involved and "you are pushing things up because there are things you want and whether that's a specific position or a specific quality in a player — whether that's toughness, intelligence, leadership."
I've noted in the past that Roseman has almost exclusively drafted high character players with proven track records from big schools. Perhaps that's a winning philosophy in general, but it has caused some notable misses (including everyone's favorite bugaboo Jason Pierre-Paul).
Roseman expanded those thoughts regarding Brandon Graham:
"We're talking about a guy that played four years at Michigan, was a two-time captain, averaged ten sacks a year. There was a great track record of success. I think for us, it wasn't so much about the other players as it was the consistency he showed in college. A lot of times when you're into the draft you have these decisions about making kind of what we talk about — doubles vs. Dave Kingman trying to go for the long ball. I'm not talking about a particularly player here, but those are some of the tough decisions that you have because you have other factors involved."
Kingman, the 6'6" slugger/strike out artist from the '70s and '80s, sounds like an oblique reference to Pierre-Paul, but the point applies generally as well. With picks like Graham, Nate Allen, Danny Watkins, and Jaiquawn Jarrett, Roseman has tended toward safe, "doubles" players with leadership and steady performance — if not tremendous upside.
Maybe that's reassuring, since all but Jarrett have at least shown the ability to be solid NFL starters. But we're also not looking at any of these guys saying, "Wow," like we are with DeSean Jackson and LeSean McCoy — players who had big questions marks coming out of college but also amazing star potential.
The final comment I want to highlight stems from a rewriting of history that Roseman supporters have often used:
"We feel like we're having success, and if you get five or six players in every draft who make the team and three of them are starting, you're drafting pretty well. Do we want impact guys in the first round? Of course we do. We want to draft those Pro Bowl guys and hit on every guy in the first round, but we're going to look under every rock for impact guys, and if we get them in the sixth round or from the CFL or in free agency, the main thing is getting good players who can help us win."
Roseman has done well at finding contributors in the later rounds, guys like Jamar Chaney, Kurt Coleman, Brian Rolle, and Jason Kelce. But other than Kelce (whose rookie season was overrated), none of these guys look like starters on a playoff team. They were starters for the Eagles in 2011 because of failures in the earlier rounds, and performed at about replacement level. More "successful" results like that won't help the team get back to the Super Bowl any time soon.
At least Howie seems to realize that.