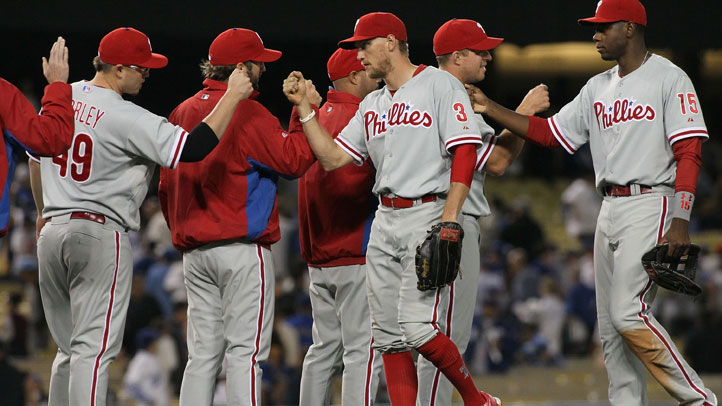 The Phillies are nearing a critical juncture in the 2012 season. In 11 days, it will be July 31 -- the MLB trade deadline -- and the Phillies will need to know if they are buying or selling.
There is plenty of interest in some of the Phils talented vets; Cole Hamels (obviously), Shane Victorino, Hunter Pence, Jimmy Rollins, Vance Worley, Placido Polanco and Cliff Lee have all been involved in trade rumors.
At 41-52, the Phils are 13.5 games out of National League East lead and 10 games out of the wild card race. So what does Ruben Amaro Jr. need to see happen before the trade deadline?
"There are going to be some determinants with wins and losses obviously," Amaro said per MLB.com. "That will be part of it. But I think every day you continue to assess what's the best thing for our organization, short term and long term. As I've said before, this isn't a team that gets blown up at any time. If we don't feel like we're going to end up being contenders this year, which I still think we are, then we're going to do what we've got to do to be contenders in 2013 and 2014."
This is actually a great point: the Phillies are having an absolutely miserable season. Players have aged, injuries have occurred, regression to the mean is rearing its ugly head ... but that doesn't automatically mean Amaro has to tie a stick of dynamite to the franchise and start all over.
And here's the other thing: the Phil standing has vacillated wildly these last few weeks. On June 29, they were 10 games out of the NL East and 6.5 back in the WC race. On July 6, they were 13 and 9 out, respectively. July 13? 15 and 12. And as of Friday, they were 13.5 and 10.
Perhaps vacillated is wrong -- it implies a swing in both directions. The Phils have mainly fallen behind. But it's clear that multiple-game swings can be made up over the course of a week.
This is especially important given that the Phils have a three-game stretch in Atlanta just before the deadline and a three-game stretch in Washington right after. If they can win the next two series -- three-game home stands against the Giants and Brewers -- and climb within 10 games of the NL East lead (not a guarantee), it's hard to see them selling, particularly with inner-division games coming up.
A lot has to go right for that to happen (namely, the Braves and Nationals losing too), but a single digit back in the division is by the end of the Braves series would be difficult to ignore with the Phils finally getting healthy and the three aces returning.