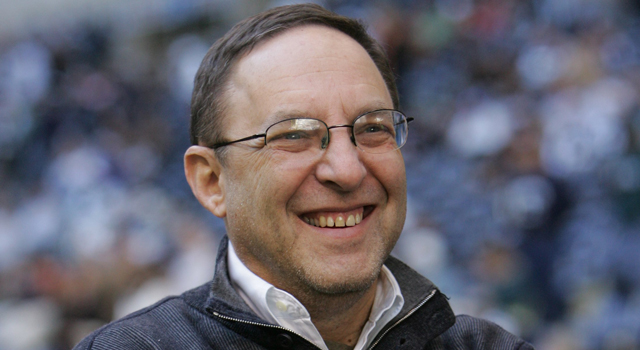 It's easy to get caught up in the upcoming season. But this Eagles team isn't built just for 2010, but for next half-decade. When you look at who is under contract with the Eagles three seasons from now in 2012, you get a good sense of how long-term the Eagles are thinking.
Might some of these players get cut? Sure. And there will be many more players drafted and signed to take their places. But the point is, each of these young players (if they're worth keeping) are assured to still be around over the next few years.
Let's go position by position.
Offensive Line: All five starters (including the injured Jamaal Jackson) are signed through 2012. There may be some questions about guys like Stacy Andrews, but presumably the Eagles think they've found the players who will anchor the line for years to come. Good teams have stable o-lines -- hopefully the Eagles have established theirs.
Defensive Line: Other than the aging Juqua Parker, any rusher expected to contribute this year has a contract for the next three years. Trent Cole, Brandon Graham, Ricky Sapp, Darryl Tapp, Daniel Te'o Nesheim will form the main group of "fastballs" Sean McDermott can throw at offenses. As of now, Broderick Bunkley, who should command a contract extension at some point soon, and the underperforming Trevor Laws, are the only defensive tackles who won't be playing for the Eagles in 2012.
Receivers: The uncertain collective bargaining agreement has likely kept DeSean Jackson from agreeing to a contract extension with the Eagles. But Jeremy Maclin, Jason Avant, and Riley Cooper are all set through 2012. Same with all three tight ends.
Running Backs: LeSean McCoy and Leonard Weaver should be a great tandem over at least the next three years.
Linebackers: One of the few positions where the Eagles don't have long-term options set (only Moise Fokou and this year's rookies are signed long-term). Of course, the coaches have never really valued the position. Stewart Bradley, if he shows he back to full strength, should buck that trend.
Secondary: Except for Ellis Hobbs and Dimitri Patterson, all the cornerbacks who have a chance to make the 2010 roster will be on the team well beyond this year. If Quintin Mikell doesn't receive a new contract though, Nate Allen and Kurt Coleman may be holding down the fort at safety by 2012.
Quarterback: If Kevin Kolb plays well he will get a long-term extension. The Eagles will never let him go. However, only Mike Kafka is signed for the next three seasons right now. One hopes he can become AJ Feeley 2.0.
The only great players not set through 2012 are Kolb, Jackson, and Bradley -- all three of whom are likely to receive extensions soon. Everyone else of note forms the core of players the Eagles hope to build around for a new dynasty of success.