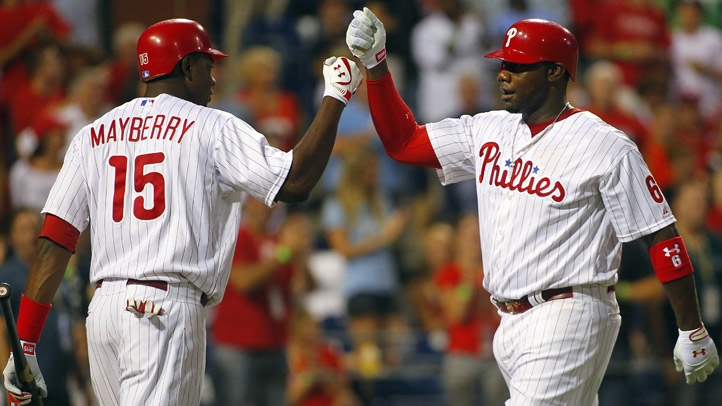 When Ryan Howard was called up near the beginning of July, there was a healthy dose of skepticism when it came to wondering exactly what he would add to the club. Coming off a pretty severe ankle injury, combined with a fairly short rehab assignment in the minor leagues made for a nasty cocktail that could have ended pretty horribly for the Phillies.

At first, it seemed like all of the skepticism was well founded, as Howard was slow to get out of the gate when he was added to the roster, thanks to a .198 batting average and a .664 OPS through his first 24 games, where he had all of four homers and 10 RBIs, but 33 strikeouts. In a word, he was awful, and he was doing very little to help out the offense, and his replacements – Ty Wigginton, Laynce Nix, and John Mayberry – weren't exactly bad in comparison.

Fortunately, his slump did not last, as he's broken out in a big way over the last two weeks, where he's hitting to the tune of a .347/.385/.673 line, with four homers and 13 RBIs over the last 12 games coming into Tuesday night's contest against Cincinnati. It's a nice couple of weeks for Howard, who was ghastly just a week or so earlier.

Is he back? Hard to say. A 12 game sample size is hardly enough information to go off of when predicting how a player will perform in the foreseeable future, but his swings of late have certainly been encouraging, and the results speak for themselves. However, it is worth noting that he has 19 strikeouts in that span, which isn't exactly encouraging, even if he is prone to striking out.
Whatever the case may be, the big thing for him is just to get healthy and to keep getting the work in, so that he can be 100% ready to go for next season. It would be nice if he kept up this pace for the rest of the way (however unlikely that is), but the most important thing is that he keeps working on getting his timing down, because come 2013, they are going to need him.