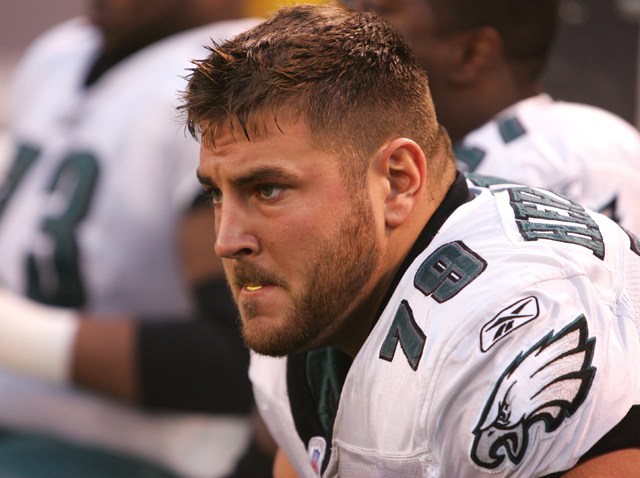 One of the joys of athletes being on Twitter is that, since there's no filter, you never know when one of them will go and say something stupid and get people angry. That's what Eagles guard Todd Herremans did just Tuesday.
Herremans posted about the HBO show True Blood on his Twitter feed. And while he enjoys it when the show features gallons of blood and people having neck-breaking hetero sex, he was shocked to find that the show sometimes features homosexuality.
Homosexuality? On True Blood? A show created by a gay man, a show that's an allegory of being gay in America? I'm as shocked as you are. Your offending tweet:
"caught up on Trueblood. Not a fan of how they get u hooked w/ 2 seasons then bring on barrage of homosexuality."
Oop dee! Yeah, you don't make posts like that without getting a few folks upset. So, after getting called into Andy Reid's office, Herremans deleted the offending post and then offered up this apology:
After speaking with Eagles management, I realize that my tweet earlier was insensitive and tasteless, and for this, I deeply apologize.

It was not my intention to offend or hurt anyone.
Again, I'm less offended by Herremans' complaint than the fact that it took him two freakin' seasons to realize True Blood is among the gayest shows on TV. I can picture Herremans at home on his couch, watching the third season of The L Word on DVD, and suddenly popping up and saying, "Wait a second! These gals are MORE than just friends!"
And really, should any offensive lineman complain about homosexuality? You hold hands in the huddle, for crying out loud. If True Blood is crazy gay, then football can sometimes look like it was produced by Nathan Lane.
So let this be a lesson to all you athletes out there. Don't go complaining about gays in a public forum, because people will actually end up reading it. Also, if you don't like gays, stay away from True Blood.