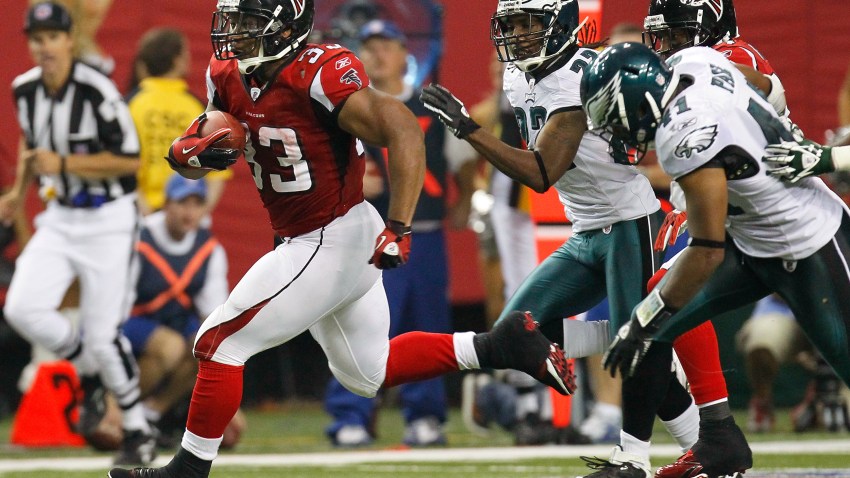 Over the last few weeks, I've talked a lot about linebacker and my concerns about the position that appears to be the Eagles biggest Super Bowl hurdle. So I went back and re-watched the 35-31 loss to the Falcons, focusing only on the run defense to try to see what was going on there.
I counted 23 Atlanta rushes:
15 of those came against the base Eagles defense, with Jamar Chaney, Casey Matthews and Moise Fokou at linebacker.
Seven came against the nickel, with only Chaney and Matthews playing, including the final six runs of the game.
One play, at the goal line, involved six defensive linemen and four linebackers with the addition of Keenan Clayton.
Of those plays, seven involved a defensive line stop or, often, tackle for a loss. Trent Cole, as everyone noticed live, absolutely manhandled Falcons left tackle Sam Baker. But the defensive line certainly didn't bottle up everything. There were big holes at times and Atlanta utilized trap blocks and counters heavily to exploit them.
Of the 16 plays that got to the linebacker level, I gave the group a generous eight stops. On this half, most were solid plays by Matthews or Chaney. They refused to get sucked in on movement and worked their way out of traffic or blocks from the Falcons offensive linemen. Don't think I charted one good play of run defense from Fokou.
And the other half? Those were very poor showings by the linebackers. Sometimes they were too anxious to rush up the field or engage with blockers instead of staying in their lanes. Other times they were on their heels, thinking too much and not reacting.
I don't have the stats to compare this (if anyone does please let me know), but having one third or more of all runs make it to the third level doesn't look pretty for the defense. Now, the secondary could certainly do a better job on run defense as well. Turner's 61-yard run was particularly damning for Kurt Coleman (awful angle), Jarrad Page (hesitation & stumble), and Dominique Rodgers-Cromartie (Asante-itis).
Still, it's hard for me to speak positively about the linebacker corps. They did show promise, in that they did well sometimes, but inconsistent would be an understatement. The only change I'd make to my aforementioned suggestion would be to replace Fokou before Matthews, since the third-year player looks even more hopeless than his rookie counterpart. Perhaps another seventh-round pick, Brian Rolle, would be better, although that's far from a sure thing.
Otherwise it's time for a Will Witherspoon-esque pick-up or for Juan Castillo to change up the scheme. Something's gotta give.