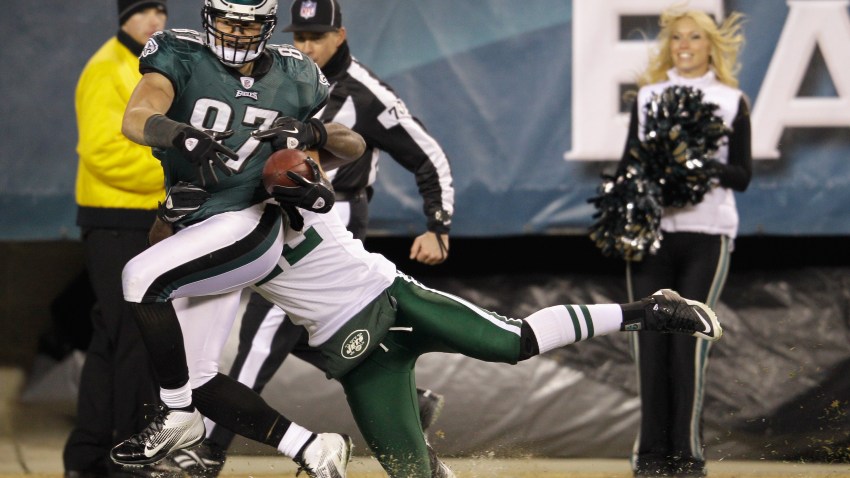 I rewatched the Eagles-Jets game and came away with several short nuggets for your enjoyment. Here you go:
The Trent Cole and Jason Babin delayed blitz routine is fun to watch. Jimmy at Blogging the Beast has a nice breakdown of it. Though they've run this for a few weeks, it was especially effective against the Jets. I expect that the Cowboys tackles will be more prepared to pass their rushers off to the inside, which is when the Eagles should go double A-gap blitz instead.

On the other side of the blitzing coin, there's no need to pull zone blitzes that drop Cole into coverage. It's just counter-productive. Mark Sanchez completed his long pass to tight end Dustin Keller against Cole. Of course, it helped that he could use a pump fake to move Kurt Coleman out of position.

Casey Matthews definitely has potential as a nickel linebacker. He's at least playing at game speed now and recognizing backs out of the backfield quickly, which is a massive improvement from before. He wasn't a horrible pick in the fourth round, but I have no idea what Juan Castillo and company were thinking starting him, especially as a rookie.

Meanwhile, Brian Rolle seems to be hitting a bit of a rookie wall. Where Matthews was flying around the field, Rolle looked slower than usual.

Asante Samuel shifted over into the slot on the right side once or twice when he didn't have a receiver to match up with on his side. That said, he was immediately called for pass interference on a slant route.

Pro Football Focus charted the Eagles defense with 9 blitzes out of 31 plays. In general, blitzing (even sending six plus) is very positive for this team, since most of the coverage problems originate with linebacker or safety play.

I loved the little play action screen pass in the third quarter, when the Eagles brought Brent Celek across the formation as if he was going to trap block, then he let the defensive end go, turned, and was open for the quick pass. Almost converted for the first down.

The Jamar Chaney interception was all Dominique Rodgers-Cromartie. DRC jumped the slant route and knocked the ball into the air. It really shouldn't be as hard for him to adjust to the slot as he makes it out to be, but he's clearly more comfortable on the outside.

LeSean McCoy's 33-yard TD run was a classic example of his skills. He dodged the first free rusher and then bounced to the opposite side of the field, dancing around another defender. Then he turned on the burners. Touchdown.