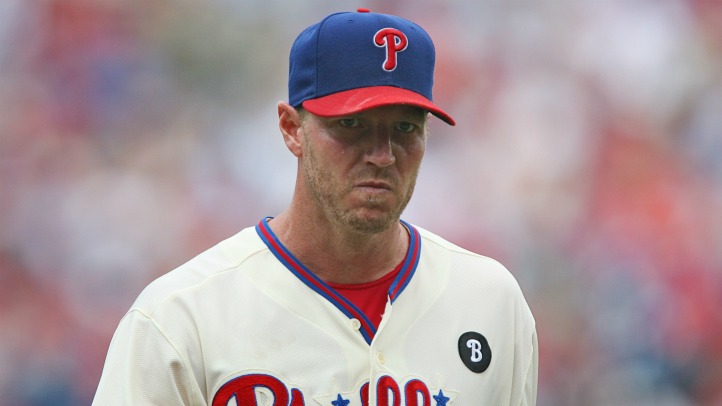 Roy Halladay is starting Game One of the NLDS on Saturday.
It is impossible to hear those words and not think back to last October when Halladay did something that only one man had ever done before. His no-hitter to start the series against the Reds was one of the great moments in baseball history and has rightfully been celebrated as such. It was more than that, however.
It was also the moment when the Phillies won the NLDS. Sure, there were two more games that had to be played, but the Reds were dead the moment Brandon Phillips grounded out to end Game One. They knew they were overmatched and the rest of the series was simply something that had to be played before the Phils moved on to the NLCS.
The Phillies need to do the same thing to the Cardinals on Saturday. No one's expecting Halladay to throw another no-hitter, but a convincing win can have much the same effect as last year's Game One whitewashing of Cincinnati.
The Cardinals enter Game One feeling like a team of destiny. The longer they are allowed to hang around, the more that feeling is going to grow and the more chance that doubt will creep into the heads of the Phillies. An early run or two off Halladay, a failed chance to score runs early against Kyle Lohse and, all of a sudden, the Phillies will find themselves on the wrong side of the scoreboard and the series.
The big question is whether or not the bats will show up. As we're all aware, the Phillies offense is prone to brownouts and Lohse did well against the Phillies in two starts this season.
That said, several Phillies have a history of success against Lohse. Ryan Howard, Raul Ibanez, Hunter Pence and Placido Polanco all have good numbers in their careers against the Cardinals starter, so the Phillies should be able to generate a few runs early and then turn things over to Halladay.
It is Doc's job to put his foot on St. Louis' neck and keep pressing until there's no life left. The Cardinals are more experienced than the Reds, but the hangover from an overwhelming victory will be exactly the same. Hope will be gone, replaced by the dread of facing the Phillies again and again.
Copyright FREEL - NBC Local Media