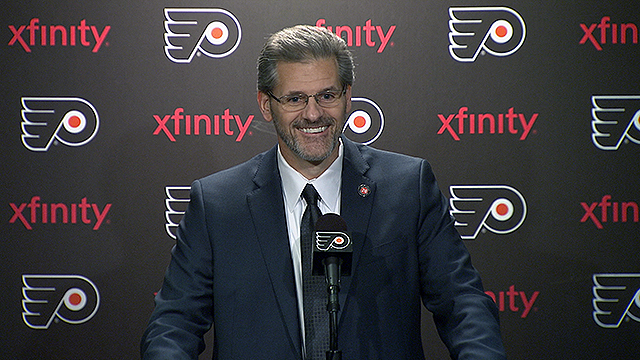 The Flyers have extended their affiliation with the ECHL's Reading Royals. It's a multi-year extension of the original agreement reached in June 2014.
Under the affiliation, players designated for assignment from the Flyers and their AHL affiliate, the Lehigh Valley Phantoms, will continue head to the Royals.
"We are pleased to extend and continue our relationship with the Royals," Flyers general manager Ron Hextall said in a statement. "Reading has created a long-term culture of success and has provided our prospects a positive environment that is important in the development of their careers.
Philadelphia Flyers
Complete coverage of the Philadelphia Flyers and their rivals in the NHL from NBC Sports Philadelphia.
"The geographic proximity of our minor league affiliations in Lehigh Valley and Reading gives our coaches and scouting department the best possible platform to evaluate and promote the advancement of our prospects within the Flyers system."
During the 2015-16 season, 14 players — including two goalies — played for the Royals who were under either an NHL or AHL contract, and two, Joe Rehkamp and Kevin Sundher, were called up to the Phantoms. Sundher ended up signing an AHL deal with Lehigh Valley.
The Royals are entering their 16th season in Reading, and third as the Flyers' ECHL affiliate. They were affiliated with the Los Angeles Kings from their inception in 2001 until the 2008-09 season, when they switched affiliations to the Toronto Maple Leafs.
Reading ended its affiliation with the Maple Leafs after the 2011-12 season. It was a secondary affiliation with the Boston Bruins in 2009-10, and was affiliated with the Washington Capitals from 2012 until 2014.
"We're very excited to extend our affiliation relationship with the Flyers," Royals president Drew Bell said. "We believe that the philosophy, culture and goals of the Royals and Flyers are consistent with one another—an unwavering dedication to excellence in all phases of our operations and ultimately, of course, winning hockey games.
"There is no question that the relationship with the Flyers has paid positive dividends for the Royals over the past two seasons, and we anticipate that our position within the Flyers' player development pipeline is only going to get stronger over the next several seasons. We look forward to this opportunity to expand our role in the effort to develop young prospects and grow the interest in and support for professional hockey in Southeast Pennsylvania."
Copyright CSNPhily