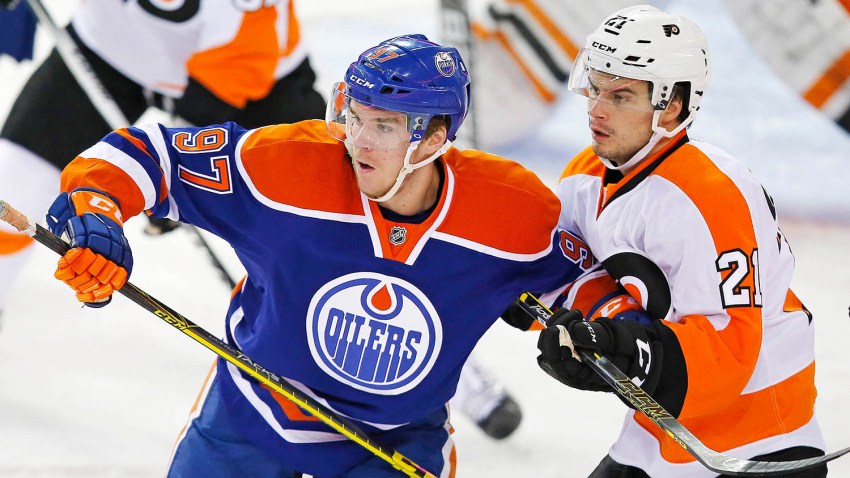 Believe it or not, the Flyers are "aware" of 21-year-old Oilers phenom Connor McDavid. That doesn't make preparing for the 2017 Art Ross Trophy (most points in NHL) winner any easier, let alone slow him down.
"You have to be understated a little bit and say you're going to be aware when he's on the ice, but obviously there's more to it," Flyers coach Dave Hakstol said of McDavid Friday. "He's a heck of a player and a guy that can make something happen at any time."
McDavid has picked up right where he left off last season when he led the NHL with 100 points and 70 assists. Six games into the '17-18 campaign, the third-year centerman already has three goals and five assists, and he's doing it in style. His two helpers helped lift Edmonton over the Blackhawks on Thursday, one of which led to the game-winner in overtime, the other - a no-look, behind-the-back pass - making highlight reels everywhere.
Philadelphia Flyers
Complete coverage of the Philadelphia Flyers and their rivals in the NHL from NBC Sports Philadelphia.
Connor McDavid. We are not worthy pic.twitter.com/b3MPlfOveQ— Pete Blackburn (@PeteBlackburn) October 20, 2017
So, yeah, the Flyers are well aware of McDavid and what he's capable of. That doesn't mean he'll be easy to stop.
"We just have to take time and space away from him," defenseman Shayne Gostisbehere said. "That's the biggest thing. You just can't give him the space out there. He's going to wind it up and wheel.
"We're aware of it. We're going to stick to our gameplan, nothing special, but obviously be aware when he's on the ice."
The Flyers knew all about McDavid last season, too. He still managed to find the back of the net twice and rack up three assists in those two meetings.
McDavid has also experienced success against both of the Flyers netminders. As a member of the Flames, probable starter Brian Elliott posted an 0-3-1 record with a .870 save percentage in four appearances against the Oilers in '16-17. Michal Neuvirth was 0-1 and allowed six goals in his only meeting.
It seems all the Flyers can do is be aware of the challenges McDavid presents.
"Probably everywhere they go, they have reporters asking the other team what their plan is against him," Elliott said.
"He's just a unique talent that you have to be aware of at all times. He's able to make plays that a lot of other guys aren't. You just have to be on your toes. You have to respect him, but you have to play your game and make sure you're tough no matter who it is out there."
Injury report
Flyers forwards Wayne Simmonds and Taylor Leier both missed Friday's skate with what the club termed as maintenance days.
Simmonds was already dealing with a lower-body injury before he was clipped in the face by a stick during Thursday's 1-0 loss to the Predators. It doesn't sound like anything that should prevent the 10-year veteran from suiting up against the Oilers, but clearly, he's banged up right now.
Leier's absence was a bit more of a mystery, and given the 23-year-old rookie's inexperience, missing practice would seem to point to an injury of some kind.
In a bit of good news on the injury front, Jordan Weal returned to practice for the Flyers. However, he refused to let on as to whether he'll be on the ice Saturday.
"Just got out there, went for a twirl," Weal said. "It's day-to-day right now, so just taking it day-by-day."
Matt Read replaced Simmonds during the skate, and could be preparing to make his regular-season debut. Read joined Weal and Valtteri Filppula on Simmonds' unit, while Jori Lehtera took Leier's place on the fourth line.
Don't read too much into those combinations, however, as the availability of Simmonds, Weal and Leier will no doubt play a role.
Sanheim sticks in the lineup
Following his strong showing against Nashville on Thursday, it appears rookie defenseman Travis Sanheim will suit up for his second game in a row.
Sanheim was a healthy scratch for the Flyers' previous two contests but drew rave reviews for his performance against the Predators. He was paired with Radko Gudas at practice, while Gostisbehere and Robert Hagg continued their partnership.
Brandon Manning may be the odd man out on Saturday, despite his history with McDavid. Ivan Provorov and Andrew MacDonald remained a unit at practice, with Manning getting some work in MacDonald's spot.
Manning was hopeful he would be in uniform. Hakstol, on the other hand, downplayed Manning's personal rivalry with McDavid as it pertains to any decision about which defensemen will skate.
"It's a situation for us every game where we have that tough decision," Hakstol said. "Regardless of whether it's one particular team, we'll look at it situationally and consider all of those factors as to who the six are that dress tomorrow. There's a lot of different factors involved."
Laughton confident
Manning isn't the only member of the Flyers who has experience with McDavid. Scott Laughton has been up close and personal with the budding superstar, having played against each other in juniors and gone to some of the same camps.
With Laughton centering the fourth line, he should have some opportunities to put his familiarity of McDavid to the test. The Flyers are going to need any advantage they can get - no matter how small or insignificant it might seem.
"I went to a pro camp with McDavid in Toronto in the summer, and he's special," Laughton said. "He's got the best hands I've seen. He's a world-class talent.
"At the same time, tomorrow I'm going to try to limit his space, get in his face and make it hard for him to get going and get speed. I think I can try to keep up with him once I get my speed going."
Laughton seemed confident about potentially matching up against McDavid. At least he has a plan, anyway.
"There's not much you can do," Laughton said. You just have to be hard to play against, be in his face all night and kind of get him off his game that way."
Copyright CSNPhily