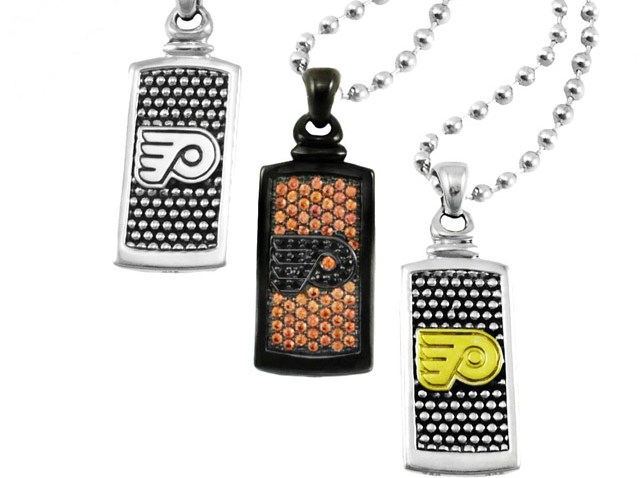 The holidays are just around the corner and we've got the perfect gift for that Broad Street Bully on your list.
LAGOS and the Philadelphia Flyers wives have created a one-of-a-kind Flyers dog tag -- great for dad, your brother or any true Philadelphia sports fan. The dog tag will come in three different forms featuring the Flyers logo -- sterling silver, gold and a special one with orange and black gems.
Prices range from $195-$2,500, but LAGOS and the Flyers Wives' Charities will donate half of the proceeds from the first 100 sold to the Comcast-Spectacor Foundation to benefit local non-profit causes.
"We're very fortunate that Steve Lagos has created an outstanding piece of jewelry that many individuals may want for the upcoming holiday season while at the same time allowing these same individuals to make a contribution to help those less fortunate" said Comcast-Spectacor President Peter Luukko.
Both the Flyers wives and jewelry designer Steve Lagos will be in the Penthouse at The Residences at Two Liberty Place from 6:30 p.m. - 9 p.m. Wednesday for those interested in the memorabilia bling. You can also purchase the dog tag at Lagos, Flyers Charities kiosks in the Wachovia Center or online.
Give that someone special something to remember this holiday season as you support local charities and sports teams.