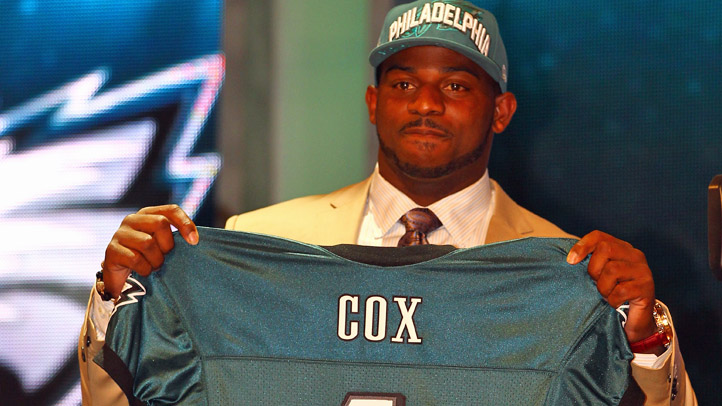 Andy Reid said the Eagles got the guy they wanted when they traded up to the 12th overall pick to snatch Mississippi State defensive tackle Fletcher Cox in the first-round of the NFL Draft.
So who is the newest Eagle?
Birds defensive line coach Jim Washburn sums up the Yazoo City, Miss. native.
"He is a really soft-spoken, shy country guy," Washburn told NBC10. "...We talked about deer hunting and guns for about the first two hours and then spent about 15 minutes on football."
Washburn sees Cox fitting perfectly with the guys he will line up next to in the Wide 9 system.
"When God made him, he meant him to play in this system right here," Washburn told the Daily News.
Mike Mayock over at NFL.com also sees Cox being a perfect fit.
"This is another rare cat right here. Here's the deal with him: He'll be a 21-year-old rookie, and you can play him inside or outside. He can handle all the space in the middle of the Eagles' wide-9 front."
Per CSNPhilly's John Gonzalez:
"...I know [Jason] Babin and [Trent] Cole are going to be excited. We swapped deer pictures and gun pictures. He's just a really cool guy. He was really proud of his new pickup. He got a King Ranch -- is that a Ford? He had no idea what King Ranch was. Anyway, good guy. Country guy."

Washburn said he first noticed Cox one night when he was watching Mississippi State play on a random Thursday. ("I must have been bored," Washburn joked.) He called a friend and asked about Cox. The more he watched, the more he liked. Washburn's initial impression of Cox the "country guy" as a player was simple and direct: "Whoa."

"He's going to jump right into the rotation we've got and start playing," Washburn said.
It also doesn't hurt that Cox was the No. 1 ranked defensive tackle (seventh overall rated player) by CBSSports.com and that he is 6-foot-4, 298 pounds with an impressive 34½-inch arm length.
Add in the fact that as a junior last season, Cox recorded 56 tackles (14.5 for a loss), five sacks and forced a fumble.
In any case, Cox should add a presence inside for an Eagles defensive line that is getting older with guys like Cullen Jenkins and Mike Patterson another year older.