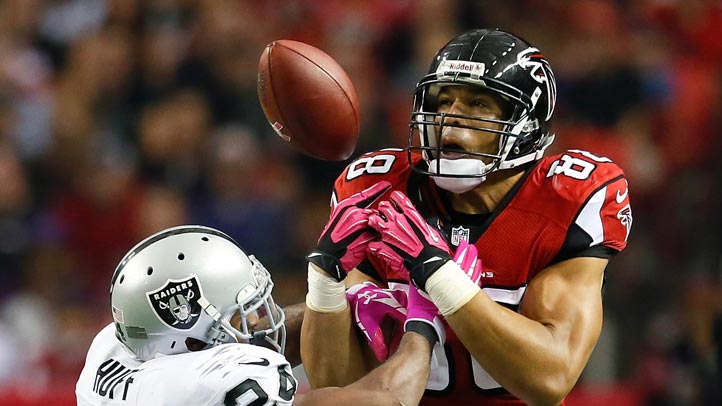 We're going to cover fantasy football all season long here at Birds' Nest by answering five questions every week about various fantasy-related topics. Let's roll.

1. Tony Gonzalez or Jimmy Graham -- who ya got?
The Falcons and Saints meet Thursday night and the matchup will include a sure-fire, first-ballot Hall of Famer in Gonzalez and a possible Hall candidate in Graham, who is just in his third NFL season. On the year, Gonzalez has 69 catches for 712 yards and 6 TDs. Graham, meanwhile, has 55 catches for 595 yards and 8 TDs in one fewer game. Looking at Football Outsiders' value-per-play metric shows that the old-timer is having a better overall season than the young buck (Gonzalez ranks 7th, Graham 19th), but it's hard to go wrong with either player. One has Matt Ryan throwing to him, the other is on the receiving end of Drew Brees passes.

2. Will the Patriots blow out the Dolphins?
This might seem like a weird question, but in their last four games (all wins), the Pats has scored 45, 37, 59 and 49 points. In terms of overall talent, Miami isn't much different than St. Louis, Buffalo or Indy, all recent victims of the Pats' high-powered offense. The difference: the Dolphins have a pretty good defense. Not so good that you should think about starting them against the Pats, but just something to keep in mind. That said, it might not be a bad idea to start New England's defense if you're low on options. This would've gotten you laughed out of the league as recently as a month ago, but they've become a turnover -- and scoring -- machine in recent weeks.

3. Is Colin Kaepernick legit? Well, he's more legit than Alex Smith but that's not exactly a ringing endorsement. That said, Kaepernick has the potential to be something really special. Whenever we talk about mobile, strong-armed quarterbacks, the conversation starts with Cam Newton and Robert Griffin III. Kaepernick may not be as dynamic, but he's flashed glimpses of what he's capable of and it's jaw-dropping. Put differently: if you're in a pinch, he's not a bad option for fantasy purposes.

4. Better QB: Andy Dalton or Philip Rivers?
The Bengals face the Chargers Sunday and if you had asked this question 14 months ago, the answer would've been unanimous: Philip Rivers. But in the nearly two seasons since, Rivers has looked more like a right-handed Tim Tebow and Dalton has continued to improve. Dalton isn't nearly as enterprising as draft classmate Cam Newton but he doesn't need to be. The Bengals have AJ Green, a solid running game and a decent defense. Rivers, meanwhile, has hit a rough patch and it's not solely his doing. The offensive line is in shambles, and the front office never thought to replace Vince Jackson and Darren Sproles. That would affect any quarterback, including Rivers.

5. Which Eagles player could have a breakout performance against the Cowboys on Sunday? The easy answer is Bryce Brown. Partly because he ran for 178 yards and two touchdowns against the Panthers on Monday night but also because … well, who else is there? It's not clear that Michael Vick or LeSean McCoy will play, and DeSean Jackson's season is over. Philly's defense has been relatively healthy, so if you were looking to lose your league by the widest possible margin (just like the Eagles!), picking them up could be an option. Otherwise, take Brown and hope he doesn't fumble away the game.