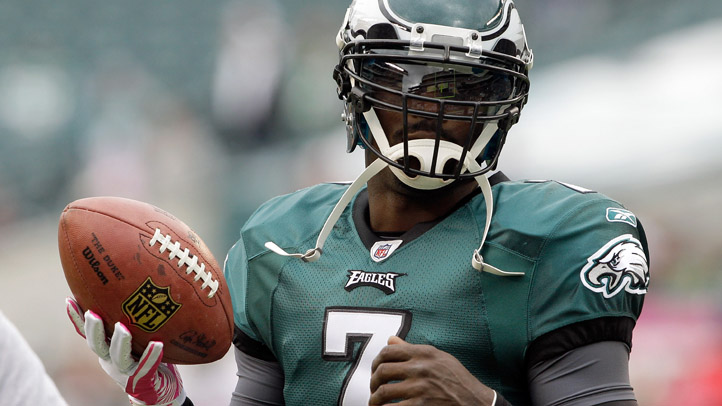 We're gonna cover fantasy football all season long here at Bird's Nest by answering five questions every week about various fantasy-related topics. FLESH FOR FANTASYYYYYY. Let's roll.

1. We're four games into the season. What would it look like if you were drafting your fantasy team now instead of before the season? If you were in a standard Yahoo league, this is what the top 10 of your draft looked like, according to average Yahoo draft position:

1. Adrian Peterson
2. Arian Foster
3. Ray Rice
4. Chris Johnson
5. Jamaal Charles
6. Aaron Rodgers
7. Andre Johnson
8. Rashard Mendenhall
9. Michael Turner
10. Michael Vick

Obviously, this was before Charles was lost for the season with a knee injury and before players like Foster, Vick, and Andre Johnson all had injury woes of their own. And this went down before we realized that NFL passing numbers were about to go bonkers. If you were drafting all over again, this is probably what your draft would look like:

1. Adrian Peterson
2. Tom Brady
3. Darren McFadden
4. Aaron Rodgers
5. LeSean McCoy
6. Ray Rice
7. Fred Jackson
8. Calvin Johnson
9. Arian Foster
10. Matt Forte

You could also sneak Wes Welker, Drew Brees, and even Beanie Wells into the conversation. Foster would stay in the Top 10 because he was back in old form against the Steelers, but Vick, Chris Johnson, and Turner have all proven worrisome early in the season. One of the reasons I like to play fantasy is to see how expectations end up getting thrown out the window once the season starts. This year has been no exception. I really, really wish I had drafted Fred Jackson. GOD I'M AN IDIOT.

2. Are running backs still more important than QBs? That's something I struggle with every year. Conventional fantasy wisdom is that you always go with a running back first and fill in after that. But look at these QBs. They're destroying the world right now. If you have Tom Brady on your team, you're going to the playoffs. NO ONE DENIES THIS. So why would you pass him up just to take a running back? Look at backs like Wells, Jackson, and Darren Sproles. There are surprises every year, and if you get an established QB and hit on just one of those lower tier backs or wideouts, suddenly you're unstoppable. I dunno. At some point, QBs will become the top fantasy commodity.

3. Can Matt Hasselbeck keep it up? He's had some pretty serious injuries to his back in the past and I can tell you as someone who has had back surgery three times that it's a chronic condition. But Hasselbeck is thriving despite having the likes of Jared Cook to throw to (and no Kenny Britt for the season). Also, his Week 15 and 16 matchups are the Colts and Jaguars, perfect playoff opponents. Unless you have Brady or someone like that, it might be a good idea to ride Hass until he proves himself unworthy of starting. If he can dazzle versus the Steelers on Sunday, you've got yourself a steal.

4. What do you do with Mike Vick as your starter? You hang on for dear life and pray the team bus doesn't fall off a cliff. Vick put up excellent numbers on Sunday in a losing effort. But boy does he like to turn the ball over and get injured. I wouldn't expect that to change anytime soon, especially given how bad the Eagles' line has been. He's a boom and bust player now. Jason Whitlock says he's just like a crazy girlfriend, y'all.

5. I played against Aaron Rodgers. That hurt. Me too. I feel your pain, amigo.