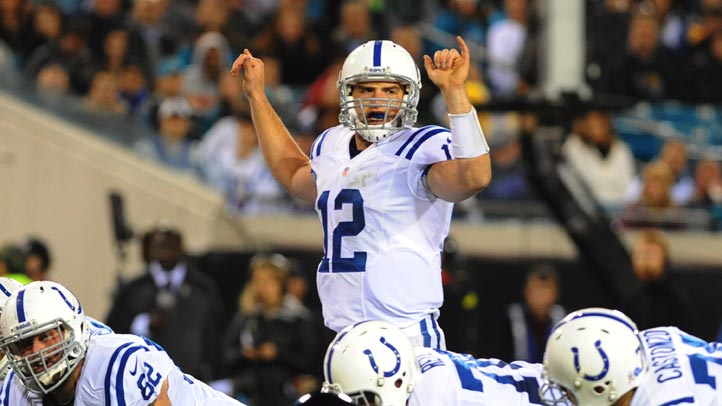 We're going to cover fantasy football all season long here at Birds' Nest by answering five questions every week about various fantasy-related topics. Let's roll.

1. Can Andrew Luck keep playing at a high level? Absolutely. We'll be honest, we drafted Andrew Luck late in our fantasy league and had him in the lineup for good by Week 3. Yes, this is what happens when Philip Rivers is your starter but that's not the point. Luck is going to break every notable rookie passing record and unlike Robert Griffin III, he arrived in the NFL with experience in a pro-style offense. And he's doing it with a suspect offensive line and few legitimate weapons outside of Reggie Wayne.

2. What's wrong with Eli Manning? It's like Eli hopped into a time machine and set it for 2004. In the last three weeks he's looked completely out of sorts, making poor decisions, throwing awful interceptions, and serving as a big reason why the Giants have dropped two in a row, the last a blowout at the hands of the Bengals. Can he rebound? Sure. For reasons that still remain a mystery, New York has struggled in November in recent years only to get hot in December. We see no reason that won't be the road map to the playoffs this time around.

3. What's wrong with Robert Griffin III? This has less to do with RGIII than the people around him. Rookie running back Alfred Morris is having a nice season but the 'Skins are without their best pass-catcher, Pierre Garcon, and are relying on role players (Josh Morgan, Aldrick Robinson) and vets (Santana Moss, Chris Cooley), none of whom are capable of stepping into the role of go-to receiver. Plus, opponents now have tape on Griffin and the Baylor-inspired system he's running, making it easier to defend. He's not nearly the fantasy option Luck is, and unlike Eli, we don't see RGIII showing vast improvement in the coming weeks.

4. Nick Foles, Jason Campbell, Colin Kaepernick. If I have to pick one who do I take? We're taking Kaepernick. Foles will get the chance to throw the ball 30-40 times a game but Kaepernick is a running back too. He runs the wildcat the way the Jets and Tim Tebow were supposed to, and he's improving as a passer. Jason Campbell was average when he was a starter and he'll be lucky to achieve that success behind a suspect Bears' o-line.

5. Which Eagles player should I start against the Redskins in Week 9? This is a battle of the irresistible force vs. the immovable object. Washington's defense is among the worst in the league; Philly's offense will likely feature a rookie quarterback with an offensive line that can kindly be described as struggling. If we had to pick one player, though, we're going with DeSean Jackson. We're still waiting for the post-payday breakout performance but a lot of that has been out of Jackson's control. Cornerback DeAngelo Hall will be assigned to cover Jackson which is great news for the Eagles. Hall's job title should be changed to escort -- as in: he spends much of his afternoon escorting the players he's supposedly covering into the end zone.