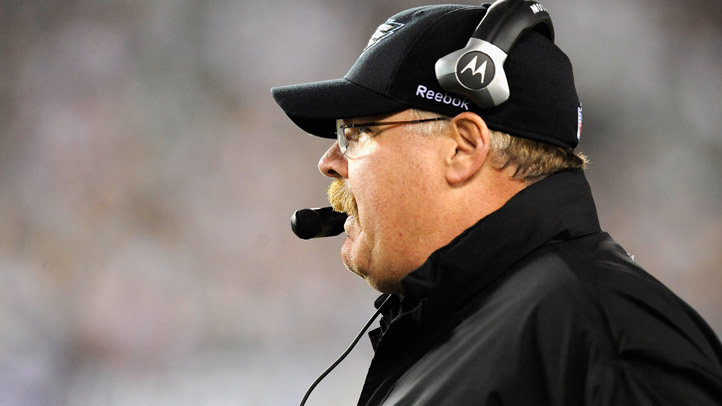 As the New England Patriots built up a three-touchdown lead in the third quarter of Sunday's 38-20 loss, Eagles fans on hand at Lincoln Financial Field let their displeasure with the team known. Chants of "Fire Andy" rained down on the team for the first time in the last decade of head coach Andy Reid's tenure in Philadelphia.
The fans were loud and persistent -- a 1-8 stretch at home can tend to cause discourse -- but Reid maintained that he never heard the calls for his removal.
"You really don't hear much down there [on the field] so I didn't hear it," Reid said. "But the way we played I can understand it."
Defensive end Jason Babin also said he never heard the chants but told reporters that he understood the fans' sentiment: "They're upset. It's a tough place as far as fans being critical, which is good and bad. They're entitled to their opinion and we didn't give them anything to be happy about."
Wide receiver Riley Cooper was "definitely aware of it," but said the real blame lies with the players.
"That's our guy, that's our head coach," he said. "Everyone loves Andy, he's one of the best. So it's definitely frustrating to hear that stuff. As long as he knows that we're behind him, that's really all that matters."
"It don't bother me," said tackle Jason Peters. "I'm going to go out there and play hard for Andy. He brought me here, and I'm going to play hard for him the rest of the season."
As the 4-7 Eagles playoff chances are remote at best going forward, you can expect more of these type of chants in the final five games.
Reid noted his frustration after the game with his team's performance. "I'm disappointed in a lot of things," he said. "You can ask me any disappointment question you want, and I'm probably there."