America's #ShibSibs have won a medal in ice dancing. Maddie Bowman failed to repeat her gold medal performance from Sochi in the women's freestyle skiing halfpipe. And the men's U.S. ice hockey team, featuring a handful of Philly-area athletes, advanced in the elimination round with a big win over Slovakia.
Here's what's happened Monday and what's happening Tuesday morning in Pyeongchang:
Team USA Men's Hockey Beats Slovakia, Moves on to Quarterfinals
The United States' men's hockey defeated Slovakia 5-1 early Tuesday to advance to the quarterfinals.
Next, Team USA will face the Czech Republic on Wednesday night (Tuesday in the U.S.).
The Americans beat Slovakia 2-1 in group play last week. It was America's only win in group play. With National Hockey League players absent in the Olympics, Team USA is comprised of mostly college kids who failed to make it into the professional league.
Included on the roster are five players from Pennsylvania and New Jersey: Bensalem's Ryan Gunderson, Abington's Chad Kolarik, Yardley's Brian O'Neill, Trenton's Bobby Sanguinetti and Erie's Ryan Zapolski.
Watch game highlights by tapping here.
Shib Sibs Win Bronze in Thrilling Ice Dancing Finale

Canada's Tessa Virtue and Scott Moir thrilled in the final skate of the night Monday, narrowly winning gold to regain the same title they secured at the 2010 Olympics.
Gabriella Papadakis and Guillaume Cizeron of France took the silver medal and Maia and Alex Shibutani of the United States won the bronze.

WATCH: Canadian Figure Skaters Craving Fast Food From This American Chain
The United States was represented by three top teams. Madison Hubbell and Zachary Donohue finished just off the medal stand, coming in fourth. Madison Chock and Evan Bates also competed.
America's Maddie Bowman Unable to Defend Her '14 Halfpipe Gold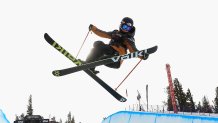 Cassie Sharpe of Canada held off a strong field Monday night to win gold in women's freeski halfpipe at the 2018 Olympic Winter Games.
Marie Martinod of France took silver, while Team USA's Brita Sigourney earned bronze.
Defending Olympic champion Maddie Bowman was unable to replicate her Sochi success. She fell on all three of her runs and finished 11th. Annalisa Drew of Team USA finished fourth.
Jamie Greubel Poser Steers Toward Another Medal
New Jersey-born and Pennsylvania-raised Jamie Greubel Poser looks to build off her 2014 bronze medal by going for golden speed with Aja Evans in the women's bobsled.
The duo raced in heats 1 and 2 Tuesday morning ET. Greubel Poser and Evans were third after the first heat, trailing fellow Americans Elana Meyers Taylor and Lauren Gibbs American by 0.07.
Both American duos remained in medal contention after their second runs with Greubel Poser/Evans in fourth place (0.32 back seconds) and Meyers Taylor/Gibbs in second (0.07 seconds back). Germany's Mariama Jamanka and Lisa Buckwitz hold the lead heading into Wednesday's finals.
Rewatch on NBC10's primetime coverage beginning at 8 p.m. ET Tuesday or watch on digital platforms by tapping here.

Backs Against the Wall, U.S. Women's Curlers Look to Advance

The United States women's curling team has never won an Olympic medal and it finished last in the previous two Olympics. But with a win over Sweden, the Americans could complete a stunning turnaround and advance to the medal round despite losing 9-6 to Korea Tuesday.
The Top 4 teams move out of round-robin play to the semifinal round, with tie-breaker games determining the semi-finalists, if necessary. With one game left to play, the U.S had a 4-4 record, tied for fifth place with China.
Sweden has been one of the better teams in the tournament, with a 5-2 record, but Swedes lost its last two matches.
Watch on digital platforms at 6:05 a.m. ET Wednesday at or as part of CNBC's coverage at 5 p.m. ET Wednesday.