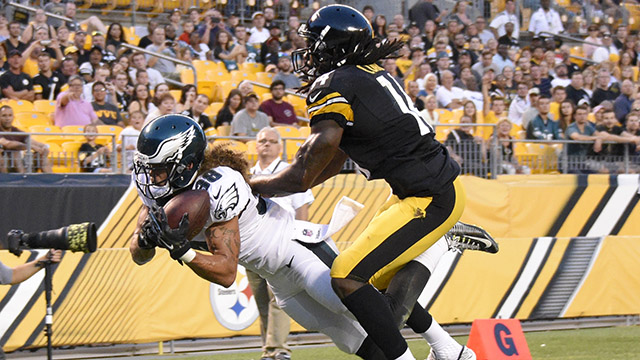 PITTSBURGH – Aaron Grymes' impressive second-quarter interception on Thursday night ended in the north end zone at Heinz Field.

It started a couple days earlier, notepad in hand, huddled around a screen with his position coach and teammates.

After the Eagles' 17-0 win was over, and with his first NFL interception ball safely tucked away in the training room, Grymes explained that when the Steelers lined up 20 yards from the end zone, he knew they were going deep. He had seen it just the night before, when secondary coach Cory Undlin had his players watching film.

"They came out and I kind of tried to ID the formation," Grymes said. "They were going to take a deep shot, they were in the high red zone area. So I was kind of expecting a deep ball, so I played off and expected them to go deep and they did. The ball was in the air and I was kind of all over the route. I saw the ball in the air and kind of turned into the receiver on the play."

In fact, Grymes actually made the cut on the flag route before receiver Sammie Coates, then used his body to give him space to make the interception in the back corner of the end zone.

Grymes was determined to make a play, he said, because just a few plays earlier, Coates beat him for a great toe-tapping 24-yard catch that was initially ruled an incompletion, but was overturned upon a challenge. The interception thwarted a 10-play, 60-yard drive from the Steelers, when the score was still 7-0.

"Aaron Grymes' interception in the corner of the end zone was a big time play for us," head coach Doug Pederson said.

But as Grymes fell after the interception, he shifted the ball to his left hand as his right shoulder slammed violently into the ground. Grymes played the rest of the first half through the pain but then sat for the rest of the game. He had X-rays on the shoulder that came back negative and he said he expects to be fine.

"We have a couple more preseason games and obviously I still need to compete to make this team," he said.

If Grymes, 25, doesn't make the Eagles' 53-man roster in 2016, he will have at least made the decision more difficult. Since he arrived this spring, the former CFL star has made play after play. Coming out of the University of Idaho in 2013, Grymes wasn't able to latch onto an NFL team, so he went to Canada on a three-year deal and became a key player for the Edmonton Eskimos, even winning the Grey Cup last season.

While plenty humble, Grymes admitted he does think he's shown something to the Eagles' coaching during his time with the team.

"I think so far," he said. "Definitely I think I have, but at the same time, so has everybody else. We have seven interceptions in two games, so we've got a lot of competition."

While the Eagles might not have top-flight corners, there is a logjam of sorts at the cornerback position, which means there will likely be some tough cuts. If the top five corners are Leodis McKelvin, Nolan Carroll, Ron Brooks, Jalen Mills and Eric Rowe, it means guys like Grymes, Denzel Rice, JaCorey Shepherd and C.J. Smith could be casualties.

That would be a tough fate for Grymes, who thinks this is his best shot to make an NFL roster and who thinks he's much more prepared for it now than he was coming out of college.

So he might be faced with a tough decision: go back to Canada, where he knows he can be a star, or bide his time on a practice squad?

"I've thought about both of them," Grymes said. "Both of them are great opportunities. I know that there are teams in Canada that are willing to bring me in and let me play. But then again, you can't really compare it with this NFL dream I've had forever.

"To sign to a practice squad … injuries happen every day, and I think an opportunity could be there. It will be something I sit down with my wife and talk about, sit down with my agent and talk about. We'll just make the best decision for us from there."

For now, though, it's back to film study. There's another game next Saturday.
Copyright CSNPhily