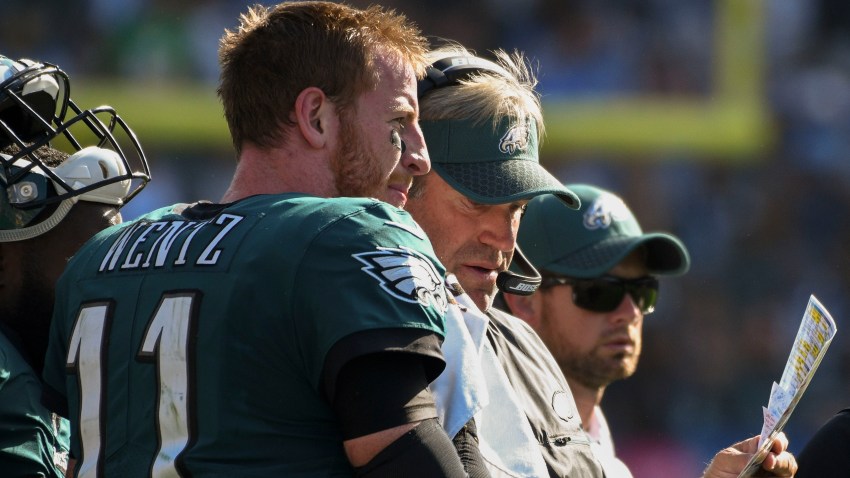 BLOOMINGTON, Minn. - The Eagles will have to settle for a chance at the Lombardi Trophy consolation prize tomorrow.
Carson Wentz was not named the NFL MVP and Doug Pederson was not named the Coach of the Year.
They both had strong cases.
Philadelphia Eagles
Complete coverage of the Philadelphia Eagles and their NFL rivals from NBC Sports Philadelphia.
Wentz received just two MVP votes, while Tom Brady won the award with 40 and Todd Gurley finished second with eight.
Pederson received just one Coach of the Year vote, tied with Bill Belichick for fourth. Sean McVay, whose team lost to the Eagles at home, won the award with 35 votes. Vikings coach Mike Zimmer got 11 and Jaguars coach Doug Marrone pulled in two.
Wentz had a tremendous season that was cut short when he tore his ACL and LCL in Los Angeles on Dec. 10. Before then, he looked like the favorite to win the award that ended up going to Brady. It's Brady's third MVP.
Through 13 games, Wentz was tremendous. He guided the Eagles to an 11-2 record while throwing for 3,296 yards, with 33 touchdowns and seven interceptions. Even after missing the last three games, Wentz's 33 touchdown passes were still second in the NFL behind Russell Wilson's 34.
Back in early January, Eagles receiver Torrey Smith said he thought Wentz should still win the MVP award based on what he did for the team. He also brought up the point that he probably wouldn't have played in the regular season finale, so it was like the injury only forced him to miss two games.
Smith admitted he was biased but thought Wentz deserved it.
"Tom Brady's the G.O.A.T. though. He is the G.O.A.T.," Smith said. "But Carson was able to make plays athletically that Tom can't physically do, even though he's the greatest quarterback ever. Carson plays the game differently and what he's meant to us on third down, when he's scrambling, the crazy plays he's made. It's not like he's Vick or anything, but the way he makes those plays, it was huge for us.
"At times we were struggling and those plays turn into opening the gates. He's made some amazing plays all year. I don't know, put their highlight tapes together and see what you think."
Wentz revealed last week that he actually tore his LCL in addition to his ACL but doesn't think it will impact his recovery too much. In fact, his goal is still to be ready for the 2018 season opener, though he didn't want to talk about timelines.
Pederson put together a strong resume too this year. While postseason achievements don't factor into the voting, he had a pretty good regular season as well. He helped turn a 7-9 team into a 13-3 team that won the NFC East and the top spot in the NFC.
Oh yeah, and he did it while losing Carson Wentz, Jason Peters, Darren Sproles, Jordan Hicks, Chris Maragos and Caleb Sturgis along the way.
The Eagles didn't walk away completely empty handed on Saturday night at the NFL Honors event. Their offensive line was named the "Built Ford Tough Offensive Line of the Year" and Wentz won the FedEx Air Player of the Year.
Oh yeah, and the Eagles won the inaugural Celebration of the Year award for their electric slide.
With a win on Sunday, they'll get the important trophy and probably dance a lot more too.
Copyright CSNPhily