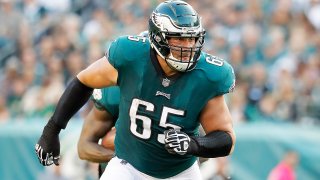 The Eagles on Wednesday afternoon placed Lane Johnson, Nathan Gerry and Jordan Mailata on the Reserve/COVID-19 list.
The list is for players who either test positive for COVID-19 or have been in contact with an infected person.
While teams are not permitted to comment any further on players' medical statuses other than to refer to the roster status, Johnson has announced that he tested positive for the coronavirus.
The Eagles have been reporting to training camp and all players are being tested for COVID-19 upon their arrival. These three will not be able to return until they pass testing protocols.
It doesn't seem like a good start that the Eagles have already put two starters and a potential key backup on the Reserve/COVID-19 list but they're not the first players in the league to end up on the list and they won't be the last.
Philadelphia Eagles
Complete coverage of the Philadelphia Eagles and their NFL rivals from NBC Sports Philadelphia.
Doug Pederson said earlier this week that he felt completely safe inside the NovaCare Complex. The idea is to test players and find positive tests before allowing those players to infect more inside the building.
The first four days of training camp, beginning yesterday, are for testing. Aug. 1-2 are for physicals and equipment. The acclimatization period is from Aug. 3-11.
Practices without pads begin on Aug. 12 and they can finally put the pads on by Aug. 17. We'll see where these three are by then.
Johnson has been one of the best right tackles in the NFL for a while now, making the last three Pro Bowls. The Eagles simply can't afford to lose him for any sort of extended period.
Gerry, meanwhile, might not be a Pro Bowler, but he is the Eagles' top linebacker heading into the 2020 season. He'll be the one LB who doesn't leave the field.
And Mailata is entering Year 3 and is expected to compete for one of the top backup tackle roles in 2020. 
Last week Johnson handed out free water ice to staff members at Jefferson Health in New Jersey. A spokesperson for Jefferson Health released a statement Wednesday night.
"The safety and well-being of our associates, patients and visitors is always our top priority," the spokesperson wrote. "Lane Johnson and Rita's Water Ice Staff participated in an event at Jefferson in New Jersey last week where all participants donned proper PPE (Personal Protective Equipment), including face masks. Lane Johnson and Rita's Water Ice staff also wore gloves. We are following all Jefferson protocols regarding staff exposure for COVID-19."
Subscribe and rate the Eagle Eye podcast:
Apple Podcasts / Google Play / Stitcher / Spotify / Art19


Click here to download the MyTeams App by NBC Sports! Receive comprehensive coverage of your teams and stream the Flyers, Sixers and Phillies games easily on your device.
More on the Eagles