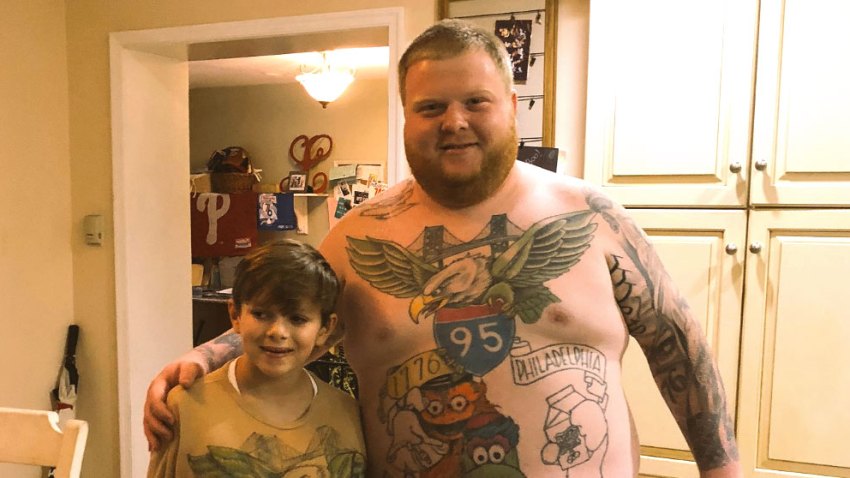 Sure, you'll see a few Phillie Phanatics and Grittys while you're out trick-or-treating in the Philadelphia area this year. Maybe even a Bryce Harper or a Joel Embiid or two. But how many Phillie Phanatic-belly-button-Tattoo Guys are you going to see? Maybe only one.
Enter Kati Sullivan of Havertown and her son Owen who came up with a truly original Philly sports-themed costume for the ages.
Philadelphia Eagles
Complete coverage of the Philadelphia Eagles and their NFL rivals from NBC Sports Philadelphia.
By now you've seen the amazing tattoo work on the belly of Rob Dunphy who became famous on Thursday Night Football out in Green Bay. But have you seen it in Halloween costume form? Behold the glory:
Nailed it?! @barstoolsports @NBCSPhilly @JamieApody @Eagles @GrittyNHL pic.twitter.com/EHn0fhUFps— Kati Sullivan (@KatiSullivan1) October 25, 2019
We reached out to Kati who informed us that the costume was Owen's idea. Mom worked as the Project Manager and dad and the family's friend Ginny did the artwork. Owen is a fifth grader who recently went to his first Sixers game on opening night against the Celtics and mom is taking him to his first Eagles game on Sunday. Heck of a week for that little dude.
Plus, he got to meet Dunphy himself when the amazing pair met today for a segment on FOX29 and Dunph was tickled pink.
Today I met one of my new best friends. His names Owen. And his costumes better than yours.

Special thank you to @jennfredfox29 for setting this amazing experience up. pic.twitter.com/iYxjd1S5nd— Rob Dunphy (@Dunphy_215) October 29, 2019
You can watch that segment below, which included a bit of breaking news as Dunphy shared that he plans to add a Sixers tattoo to the masterpiece.
Click here to download the MyTeams App by NBC Sports! Receive comprehensive coverage of your teams and stream the Flyers, Sixers and Phillies games easily on your device.
More on the Phillies
Copyright C