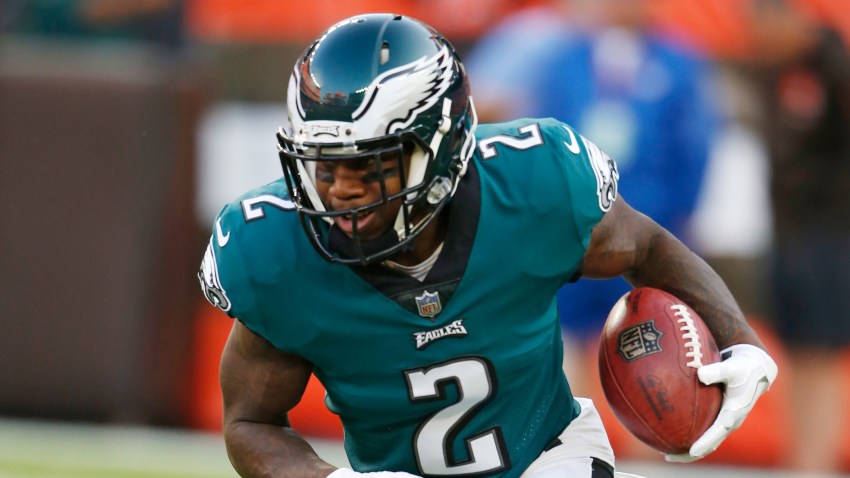 DeAndre Carter, who had a great preseason and made the Eagles' initial 53-man roster before being released earlier this week, is back with the Birds.
The Eagles have signed Carter to their practice squad.
Carter became a fan favorite this summer after having a great training camp on his quest to fulfill a promise he made several years ago to his dying brother. Carter played 72 snaps in the first two games but had just one catch for 10 yards.
Philadelphia Eagles
Complete coverage of the Philadelphia Eagles and their NFL rivals from NBC Sports Philadelphia.
In addition to Carter, the Eagles also added tight end Billy Brown to their practice squad and released WR Reggie Davis. Brown joined the Eagles last spring out of Shepherd University and spent last year on the practice squad. He was with the Eagles this whole spring and summer.
Brown was once thought to have a shot to make the Eagles' 53-man roster as the third tight end, but had a really quiet training camp. He's still making a conversion from receiver to tight end.
The Eagles' practice squad is now full at 10 players:
LB Asantay Brown
TE Billy Brown
WR DeAndre Carter
DT Treyvon Hester
WR Braxton Miller
WR Dorren Miller
DE Joe Ostman
CB Chandon Sullivan
S Tre Sullivan
C Jon Toth
More on the Eagles
Copyright CSNPhily