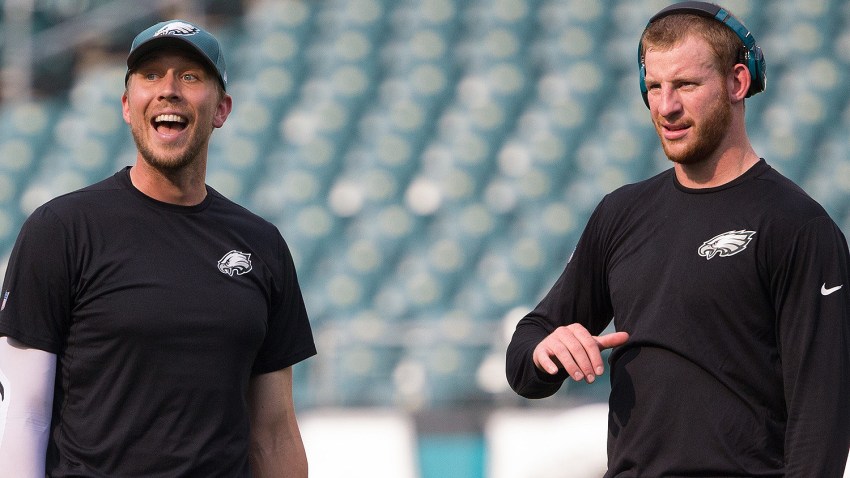 Finally world champions, the Eagles find themselves in the world's most enviable predicament: What to do with the MVP of the Super Bowl?
Doug Pederson squashed any notion of a quarterback controversy postgame. As long as he's healthy, the job belongs to 25-year-old All-Pro Carson Wentz.
Philadelphia Eagles
Complete coverage of the Philadelphia Eagles and their NFL rivals from NBC Sports Philadelphia.
"I told him that hopefully, we'll be back in this game with him leading the way," Pederson said.
That means Nick Foles - the man who guided the Eagles through the playoffs and over the Patriots in the Super Bowl - becomes trade bait this offseason. At least, that's the natural conclusion to draw.
There is another option. Theoretically, the Eagles can also hold on to both Wentz and Foles for 2018.
From a purely financial standpoint, it's a viable plan. Between the two of them, Wentz and Foles are scheduled to make less than $15 million in salary cap terms in '18. That figure would easily land the Eagles in the bottom half of the NFL for quarterback spending.
The Eagles currently rank 21st in cap space allocated to quarterbacks after new contracts around the league for Jimmy Garoppolo and Alex Smith (pending). Enormous paydays are anticipated for free-agents Kirk Cousins and Drew Brees as well.
Though reports indicate Wentz could be recovered from a torn ACL in time to play Week 1, that's far from a certainty. Even if he is 100 percent by September, that doesn't mean he'll be healthy come January, as the Eagles recently learned.
As long as Foles is on the roster, the Eagles are prepared in the event Wentz's injury lingers or he gets hurt again.
Not the worst idea for a team that has designs on repeating.
Naturally, there are other factors involved with the decision at quarterback. Money is tight, and the Eagles currently possess one pick in the first three rounds of the 2018 NFL draft. Trading Foles aids with both dilemmas.
There's a potential moral imperative to do right by Foles, too. If he can be a starting quarterback and sign an expensive, long-term contract someplace else, the Eagles may not want to delay his opportunity, provided they receive a fair offer.
Then again, Foles chose to return to the Eagles and doesn't seem like the type to let ego get in the way. He may be OK with waiting until 2019 when he can become a free agent.
Given everything Foles did for the Eagles this past season, and everything the organization is trying to accomplish in the year ahead, it's certainly an avenue worth exploring.
QUARTERBACKS BREAKDOWN
*Ages as of Sept. 6, 2018
Nick Foles
Age: 29
2018 cap hit: $7.6 million
The question becomes what is Foles worth in a trade? As remarkable as his postseason run with the Eagles was, there's a reason it was equally improbable. The six-year veteran is incredibly streaky. Foles' successes, or failures, appear tied to the quality of his supporting casts, so he won't necessarily appeal to just any quarterback-needy team. An established playoff contender would be the most logical landing spot, maybe the Bills, Cardinals or Vikings. Whatever his value, if a move is coming, expect it to happen quickly - Foles has a roster bonus worth $3 million due March 18.
Carson Wentz
Age: 25
2018 cap hit: $7.275 million
In case you're wondering why the Eagles don't have a legitimate quarterback controversy on their hands, the answer is simple. Wentz is younger, he's under contract through 2019 with a team option for 2020, and he possesses physical abilities that most quarterbacks - including Foles - simply cannot replicate. The injury is a concern for the immediate future, but most professional athletes make full comebacks at that age. Regardless of who was at the helm for the Eagles in the playoffs and Super Bowl, Wentz is the unquestioned leader of this franchise.
Nate Sudfeld
Age: 24
2018 cap hit: $630,000
If the Eagles trade Foles, are they comfortable with Sudfeld as the backup? That seems like a gamble for a team with Super Bowl aspirations. Sudfeld did OK in his first NFL action, mopping up the final three quarters of a meaningless Week 17 game against the Cowboys. He made safe decisions with the football, completing 82.6 percent of his passes with zero turnovers, and demonstrated functional mobility with a 22-yard scramble. It was a promising debut, though probably not enough for the Eagles to stay completely idle at quarterback if Foles is out of the picture.
Copyright CSNPhily