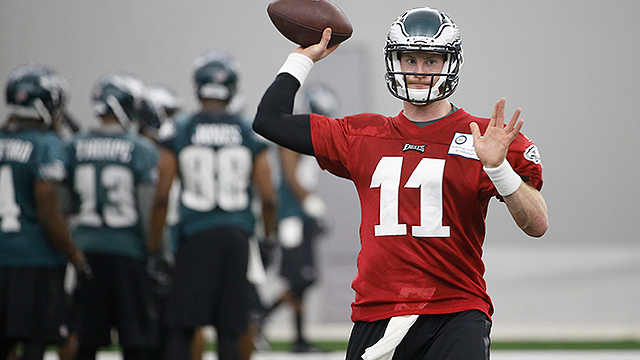 How badly did Eagles quarterback Carson Wentz want to beat the Giants on Sunday? Enough that he was willing to lose an entire paycheck.
Wentz was wearing a wire – or "mic'd up" as they call it in the industry – in Week 3, which no doubt produced some interesting soundbites. However, it will be hard to top the signal caller's conversation leading to Eagles kicker Jake Elliott's game-winning 61-yard field goal as time expired.
Let's just say Wentz was a little poorer when the clock hit zero.
Philadelphia Eagles
Complete coverage of the Philadelphia Eagles and their NFL rivals from NBC Sports Philadelphia.
"This guy is a superhero if he makes it," Wentz said. "I'm freaking giving him my game check.
"I'll give him my game check if he makes it."
Pay up, Carson. The whole world knows now.
We had @cj_wentz mic'd up for #NYGvsPHI and, well, just listen for yourself. #FlyEaglesFly pic.twitter.com/jEyB1msn1o— Philadelphia Eagles (@Eagles) September 26, 2017
The best part is probably the reaction from Eagles special teams ace Kamu Grugier-Hill, whose eyes nearly bulged out of his head upon hearing Wentz's statement. No wonder Grugier-Hill helped carry Elliott off the field afterward – he was probably angling for a free meal or something.
Unfortunately for Elliott, most of Wentz's contract valued at more than $26.6 million is in the form of bonuses, so a game check only comes in at $31,764.70 and a half-cent. Still, not a bad little reward for hitting the longest field goal in franchise history.
I'm sure NFL rules frown upon Wentz signing his check over to Elliott. But the least Wentz could do is buy the guy a Subaru or something.
Copyright CSNPhily