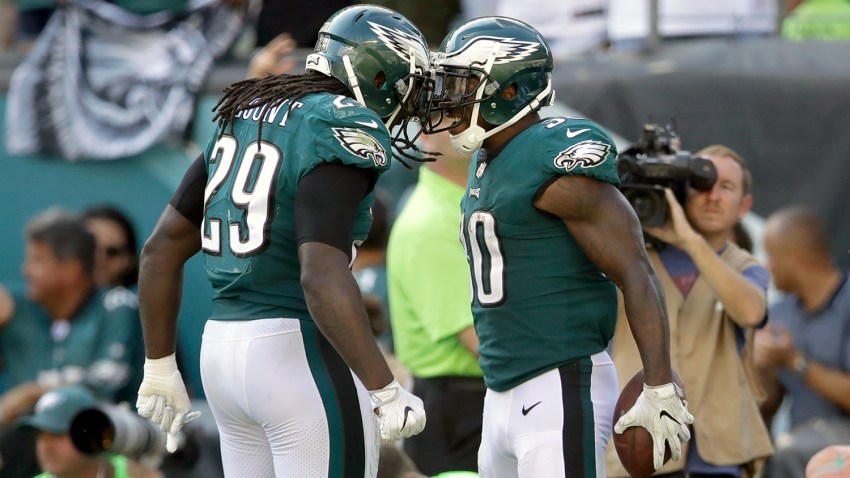 After his second carry of the game went 17 bruising yards through traffic, LeGarrette Blount began marching around, waving his arms, getting his teammates and the crowd fired up. Getting himself fired up.

A week after getting no carries in a loss to the Chiefs, Blount was making sure everybody knew he was back.

And 171 rushing yards later, the Eagles had finished off the hated Giants at the Linc, 27-24 (see breakdown).

Everyone will remember Jake Elliott's game-winning 61-yard field goal with no time left, but if it hadn't been for 33 carries, 171 rushing yards and two TDs from the running backs, the Eagles never would have been in a position to attempt that kick.

It all began with Blount jumping around the field as 70,000 fans roared their approval.

"It's an emotional game," Blount said. "I take pride in running the football well and hitting big plays. … It's a mentality. You gotta get everybody on board. You have to get everybody into the game.

"It's not like you get a 10- or 15-yard run every time you get the ball. They come few and far between. So whenever you do that, the emotions come running and you fire your offense up. You can fire your defense up. It can fire your whole team up. And you guys know what can happen if that momentum carries on."

This happens.

Blount ran 12 times for 67 yards and a touchdown, Wendell Smallwood ran 12 times for 71 yards and undrafted rookie Corey Clement ran six times for 22 yards with a late 15-yard touchdown that tied the game at 21 (see Roob's observations).

Darren Sproles ran three times before leaving the game with a wrist injury in the second quarter.

Add in Carson Wentz's 22 scramble yards, and the Eagles finished with 193 rushing yards - their second-most ever under Doug Pederson and more than twice their average the first two games of the season.

"This was our goal coming into the week after we got tired of not running it last week, especially when we really needed it," Lane Johnson said. "It was something we worked hard on all week, and it finally paid off."

Blount and Smallwood became the first pair of Eagles with 12 or more carries and a 5.5 average or higher in the same game since Donovan McNabb and Duce Staley did it against the Jaguars in 2002.

They're the first pair of Eagles running backs to put up those kind of numbers in 44 years - since Norm Bulaich (13 for 104, 8.0) and Tom Sullivan (26 for 155, 6.0) in a game against the Bills in 1973 in Orchard Park.

"I think everybody wanted us to run the ball - the front office, the coaches, the fans, the media," Clement said. "It was kind of embarrassing last week. LeGarrette and Sproles emphasized this week that we were going to be a key group today.

"We knew if we got the attempts we needed, we're going to do great things. It's hard for a running back to get into a rhythm when you're only getting a carry here and there. Today we just kept rolling."

On a day when the defense allowed 24 fourth-quarter points and the passing game really wasn't clicking - Carson Wentz didn't have a completion over 20 yards - the running game carried the Eagles (see report card).

Just when you didn't think Pederson would ever commit to the run, he did it in a big way.

"Everyone saw how hard the backs were running," Jason Kelce said. "Even on plays we didn't block as well, they were still getting five, six yards a carry just because they were running so hard. When our backs are running like that, this is a very powerful offense.

"We've got a rap for not being able to run the ball, so it felt really good to go out there - against that defensive front, which I think is one of the best in the National Football League - and be that successful."

Thanks to the running game, the Eagles held the football 37½ minutes, and with an injury-ravaged defense, that was critical.
"The offensive line played unbelievable," Smallwood said. "Them guys, they live to run the ball."

Get this: This was only the third time in the last 20 years the Eagles have had 13 or more rushing first downs and eight or fewer passing first downs.

"As a running back, you obviously want the ball quite a bit," Blount said. "It's pretty tough to get into a rhythm when you don't get it. They gave it to me early and I got into a rhythm."

This really came out of nowhere.

The Eagles' backs had 33 total carries the first two weeks of the season.

They doubled that Sunday.

"We were all so hype, so pumped up, when any of us had a big run," Smallwood said. "LeGarrette is out there running over people, Corey's running through tackles, it was just a great day for the room. There wasn't any stopping us."
Copyright CSNPhily